While the world has seen the element of robotics in virtually every industry, furniture has largely been left untouched. However, it seems this won't remain the same as it has been. Yes Robotic furniture is something that is the next big thing in the world of furniture. The USP of these furniture would be to act as an ultimate space saver for people living in small homes and apartments. A collaboration between Ori and designer Yves Beher, intends to create a line of architectural robot units which would could be used as a furniture inside your homes.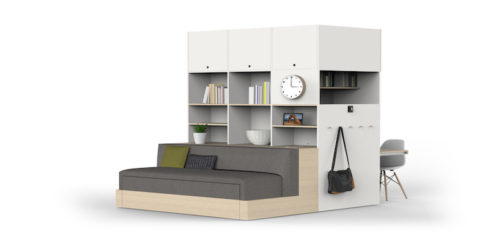 The concept of modular mechatronics is utilised by Ori for offering a full-scale bedroom, office in a single unit or even a living room. They are also working to include retractable beds or desks to the configurable shelves or closets. All these are derived from origami which is a system that allows users for opening up additional spaces within a living area by merely a touch of the button. It may also be facilitated by the use of an app.
There are no clear indications about the costs which these systems might come at, but the 1st units would be available for testing in the early 2017. This will be followed with a pilot program. However, with an understanding that2 units could nearly fit all the furniture within a bedroom or even a living room, the price would definitely be not cheap.