The purpose of landscape night lighting techniques is to breathe life into the landscape even at night with the use of adequate lights. The landscape area of a home should be prominent and beautiful not just during the day but also at night. Following some of the effective landscape night lighting ideas could help to achieve a beautiful look for the landscape at nights.
1. Light the areas that concern safety
The areas that require light as a necessity should be looked upon first. This is to say that such areas should be lighted first that concern matters of safety, such as walkways, handrails, slopes, steps, or changing elevations. For such purposes low fixture lights can be used that should scatter the light downwards on paths and passageways. Care should however be taken not to over-light the area. Such lights should only be used as are soft and acceptable to the eyes. Motion sensors can also be added for security at night.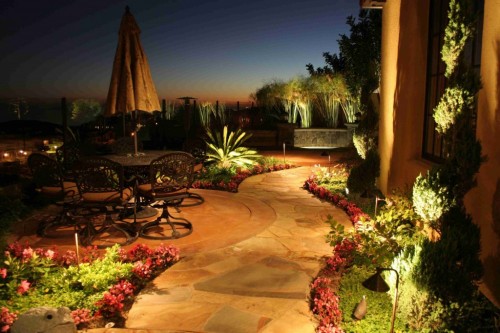 2. Focus on the highlights
The homeowner initially needs to decide upon the areas that he wants to focus and highlight. There are certain night lighting techniques that help to hide the flaws in the landscape. There is one technique that can be used for highlighting the focal points of the architecture and that is by adding lights that shine from below. This is also referred to as the down lighting technique. The existing focal points in the garden such as a fountain or statue can be brought into focus by using concentrated light over the areas.
3. Lights should be functional and aesthetic
The idea is to induce both functionality and aestheticism into the garden. Poles, torches, and bollards can help in achieving this purpose. The bollards and lighted poles can be placed in the home entrances and around the landscape perimeter. If the garden is a large one, using bamboo torches is one of the effective lighting techniques. It highlights the landscape's perimeter. However, fire safety measures are a must.
4. Illuminate the patios and gazebos
For the functional areas of the landscape such as the patios and the gazebos, those lights should be used that are energy efficient. Hanging lights are great options for such areas of the landscape. In fact, beautifully decorated and adequately lighted landscapes are the best places for a close family dinner. Such beautiful landscapes are also good for social functions and get-togethers. Using lights that are soft and muted can help in achieving the desired feel in the landscape. Also the hanging lights have the effect of illuminating the space. Such areas can also be brought into focus by fixtures and lamps.
The choice of lights for the landscape depends on the size of the landscape and also on the kind of accessories used. The night lighting techniques should be such that they hide the flawswhile bringing the highlights of the landscape into the spotlight.