Are you the kind of person who runs office in the same place as your residence? As the age old saying goes "Don't mix personal stuff with professional life". The same thing holds good here as well. You can maintain your home as you please. But when you are setting up an office floor then there needs to be a complete change over. You need to create a friendly office atmosphere to be able to attract more clients and thereby bring in more business. Here are few fabulous ideas on home office makeovers on a budget.
Carpet the floors
Whether you have ceramic flooring or wooden flooring, it doesn't matter. Make sure you carpet the entire floor where you are planning to have your business set up. The whole room where you are going to conduct business should necessarily be clutter free. You can hire someone from the house keeping unit to dust the carpets every single day. Clients who visit your place often need to have a nice impression about the way you have set up the ambience.
Spruce up your basic sofa set
To add color and excitement to your shop floor which you plan to set up at home itself, you can count on this idea. You can use an aesthetic sense of creativity by sprucing up your sofa sets with vintage textiles. You can mix and match pattern colors. You can add office theme based pastel shades to cushion covers. Match up the décor to what is found in a sophisticated office domain. Would you like to enter an office all dull and lifeless?
Plant invigorating shrubs and creepers
Again, this idea beats out the rest. You can place attractive looking plants and creepers around the office bay area. This adds radiance to the home office décor. Select those variants of plants and shrubs which require minimum sunlight and watering.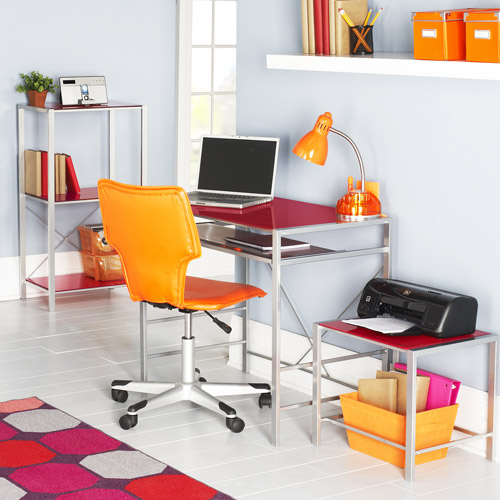 Fish aquarium
As per Feng Shui, fish aquarium adds to good vibes and leads to positive thinking. There are a lot of attractive fish aquarium sets available in the market for you to choose from. And the kind of fishes that are to be placed in the aquarium can be customized as per your requirements. What are you then waiting for? Adding one to the middle of the hallway is a creative theme for a home office make over.
Renew cushion covers with slip covers
You are on a tight budget to get the home office makeover done. At the same time, the rooms should look neat and create the right ambience for getting business done. How do you make both the ends meet? By renewing the cushion covers with slip covers. Also, measure your sofa length and width and look for a standard slipcover in the closest size in a neutral color.
Window panels
Window panels cannot be left unattended especially when you are going in for a home office make over. Choose drapes of mild and subtle colors to give the room a neat and a sophisticated look. Light blue or satin pink drapes can be used to cover window panels and blinds. If you are opting for curtains, then hues of grey or cream would be the right choice.
Colors to paint the room
Paint the whole room in a mono chromatic scheme. Combination of pale green and white works wonders to your office décor. Avoid painting the rooms with flirty shades like red or orange.
Pastel blue for the wash rooms
In case clients need to use the restrooms, they need to be inviting. Use light blue pastel shades to paint up the wash area. The soft blue walls set tone for a relaxing bathroom experience.
Give a new makeover to existing pieces of furniture
If you have an old as well as a rugged wooden arm chair, you can give it a new lease of life. You can spray paint furniture in shades of brown or navy blue.
Bring about a new twist in items that are barely used
For an effective home office makeover, you need to think smart enough. An old crate can be re-purposed as a serving tray. This comes handy especially when your office staffs are going to be served hot cups of ginger ale tea during the evenings. These effective tips make room for exciting and innovative home office makeovers pretty much within the budget.