These 10 budget-friendly bathroom makeover ideas help you to minimize your renovation cost for your bathroom. Experts are of the opinion that renovation costs run high as there is too much electrical work done during these renovations. You can avoid these unnecessary expenses and make a few changes in your bathroom using some of the superb ideas.
1. Changing your old faucet with a new one
You can change your old drab bathroom and help it to enjoy its makeover by simply changing the old faucets with new updated designs. The faucets can be installed using the instructions and can be done but yourself in a matter of an hour or so.
2. Coloring your old bathroom cabinets
Most homeowners tend to use white and gray shades in their bathrooms. When giving your bathroom a makeover break this rule. Add some pop colors in your bathroom cabinets and your bathroom would look good as new.
3. Adding greenery into your bathroom
Most people would add potted plants in their living room, but never in a bathroom. But if you have a few small potted plants, you can place them around the bathroom. The sweet smell of these plants would add a new ambience in your bathroom.
4. Changing the shape and style of your bathroom mirror
If you are in a mood to rebel and break away from the old then you could replace your dull mirror with a new mirror which has red and orange neon colored borders. In a matter of few minutes your bathroom would look like a rock star.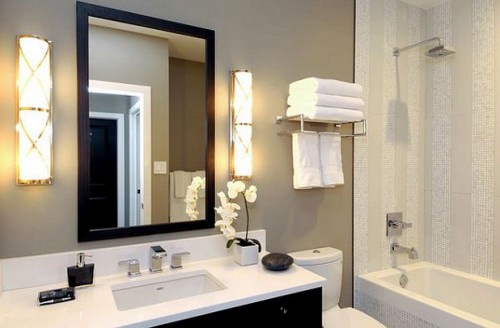 5. Extend your showering area
A great way to give your bathroom a new makeover is to extend the shower area if it is in an extended closure. With this change you are able to clean your bathroom in a better manner and your bathroom also sports a wow look.
6. Change the lighting system of your bathroom
Most bathrooms have a single lighting outlet. You can change this when undertaking a bathroom makeover and use a few decorative lamp shades near the mirror and the bathtub area. These decorative lamps would add a subtle ambience to your bathroom.
7. Changing the floors
Bathrooms undergo wear and tear, but few homeowners pay attention to it. You can be different and add synthetic durable flooring which makes it look beautiful and hide the worn out floors too.
8. Painting the walls
The bathroom walls can be painted with warm or cool colors depending on the size of the bathroom. A new paint on the wall would be cost effective and also add a new dimension to your old bathroom.
9. Introduce organic curtains
Most bathrooms lack vibrancy in them. A simple thing to do here is use an organic shower curtain which has beautiful flower prints on them. This would bring the freshness of the garden into your bathroom and give your bathroom a new feel.
10. Invest in some small bath accessories
A unique concept among 10 budget-friendly bathroom makeover ideasis to add beautiful bath accessories like beautiful vases which have vibrant faux flowers in them or a large glass jar which is filled with shells or even scented candles.