One of the most important areas of home is the dining room and hence proper dining room lighting tips should be followed when designing or decorating a dining room. This is the place where all the members of the family come together every day, no matter how busy their day was. Various kinds of dining room lighting ideas are here to help you decide what exactly would suit your home.
Although the dining room must be well lit especially on occasions, dim lights are preferred most of the times. Hence, you must choose the lights in such a manner that making changes is possible whenever you wish.
Variety of light sources
The traditional method of lighting up the dining room using a single light source is kind of boring. These days, people go for multiple light sources. This is not in order to get more brightness in the room, but it would provide a natural decoration to the dining room and you would not get bored of the single light coming from a single direction daily. However, while using this idea make sure that you do not end up making the room so bright that it becomes uncomfortable for people to sit and eat there.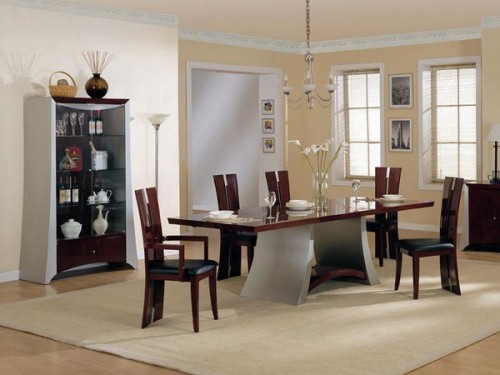 Use a chandelier
If you have an option of choosing a chandelier for the dining area, you should never miss it. It not only looks good, but it would also provide you a royal feeling. You should always hang it at the center so that it becomes the main focus of the room. Additionally, the chandelier must be at least 30 inches above the dining table; else there might be some risk.
Use dimmer switches
As mentioned earlier, you might want to dim the lights on some special occasions. Dimmer switches are designed for this very purpose. It would also give you a chance to get a different kind of environment daily. This kind of lighting is specially desired when you have an intimate dinner party in your own house. And the good thing about the dimmer switches is that you can provide a brighter light as and when desired.
Use pendant lights
Pendant lights are yet another popular method to light up the dining room. You should not hang them too high else they would never be noticed. On the other hand, they should not be hanged too low that they touch the heads of people sitting there. You should also choose the shape and color of the pendant lights that compliments the décor of your dining room.
A dining room with proper lighting and nice décor would invite guests and appeal to them. This would also become a place for social gathering and people would want to spend more time in this room if lighting is attractive. Hence, you should give a considerable thought to the above mentioned dining room lighting tips when planning to renew the dining room.