Learning how to arrange living room furniture can be a daunting task, but knowing the right techniques will greatly help you in increasing the overall appearance of the home. A living room is the most special room in the home because of the fact that it serves a number of purposes. There are some people who use this room for important family gatherings while others use it for display. Not considering the purpose served by the living room in your house, you might face some problems when trying to arrange your living room furniture. There are some important aspects of living room furniture arrangement which should be kept in mind.
Furniture size and placement
You should be very careful about the size of the fixtures and placement when the subject is of arranging living room furniture. In order to get the placement correct and the dimensions or size in place, try establishing a central point in your living room. This focal point should be used for arrangement of living room furniture. Your central point can be any existing feature in the room like fireplace or window. Placing a large television in a particular area can also help create a central point.
Sofas and chairs
It is important to place some sofas and chairs in the living room. You can easily avoid last minute annoyance by getting a very clear idea about the space that you have in your living room. This should be done before purchasing the living room furniture. Also try to have a good floor plan in mind so that you do not end up buying too large or too small pieces of furniture for the living room. Try measuring the room yourself or you can even hire some experts for doing this job. Measurements can help you in getting the best sofas and chairs in the living room. Speaking about placement, place sofas and chairs in different spots and judge where they appear visually attractive.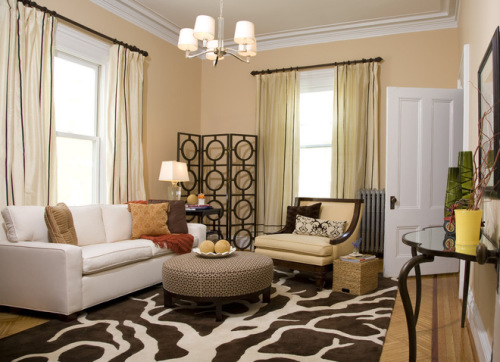 Coffee table
A coffee table is placed generally in between seating arrangements and conversation areas. Either purchase a coffee table separately or you can even get a set of coffee table that comes along with quality chairs. If you are buying a single piece of coffee table then make sure to buy a piece that goes well with the sofas and the chairs around it in relation to length, color, shape and height. Try placing coffee tables in between sofas and chairs or you can also position them against the wall for the purpose of displaying décor and accessories.
Make way for conversation
The living room is that area of your house, which is primarily used for conversations. Therefore, make sure that it serves its purpose very well. Furniture arrangement in the living room should be done in such a way that it turns out to be a very comfortable and relaxed conversation area. People should be enabled to talk in a comfortable way through your seating arrangement without straining necks or without shouting.
Traffic flow should not be ignored
Never ignore the traffic flow in your living room. Leave good space for the inmates to have an easy chat and to be able to walk around the entire room properly without the furniture blocking their way. These are some tips for those looking for tips and ideas on how to arrange living room furniture.