Sometimes, very simple design ideas create the biggest impact on the visitors, bringing some spring fashion trends into your home are one of those simple tasks that can create a great impact on your guests and would win you compliments. You can start by giving a monochromatic feel to your house and then move forward to follow up the spring trends. Follow up to know how you can bring spring fashion trends to your home.
Adhere to color code
The color code is something that one must be aware of when he is designing the interior of the home as per the spring trends. Bold colors such as radiant orchid are one of the most popular colors this season and you can also go for various other shades of orange. From accessories to the furniture, you can use these kinds of colors. These colors would add a nice character to your home and it would also make your home look different. Colored accent pillows would add further elegance to the house and you can also get some modern chairs as per the latest trend.
Metallic and glitters
Gone are the days when people used to hate glittery decorations. These days, more and more people are getting inclined towards metallic and glittery decorations and adornments. This is an easy trend and the good thing is that it is not very expensive to follow. You can choose glittery pillow covers and place them in your bedroom, or you can choose glittery cushions for your sofa sets and place them in your drawing room or living room. Mixed metals are also growing very popular these days. So you can choose any color that you want. However red is the most popular color that people are going for.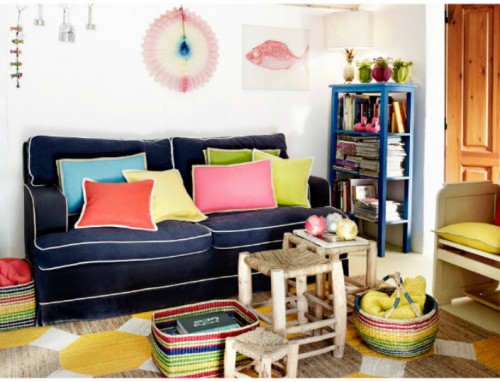 Go for pastels
This spring, pretty pastels are one of the hottest trends to follow up. Minty greens, light lilacs, pale pinks, baby blues and mellow yellows could be seen everywhere. Even the home magazines have regarded them as one of the most popular trends this season. These soft pastels would also provide a relaxed feel to your home and the good thing about them is that you can place them in any room of your house.
Drapes around the bed
It was in the past that only royal homes had those drapes around the beds. Now you can get them in your home and provide a luxurious feel to your house. Cascading drapes are a subclass of this which provides a nice feel to your bedroom. This would also add a touch of romance to your house.
Using fringes
If you are too much attracted by the spring trends, it would be a good idea to go for fringes. You can use them as your pillow covers or as a sofa cover. This would look gorgeous when thrown on your sofa casually. You can also add fringe lightning to your home.
If you want to bring latest spring fashion trends to your home, it would be a good idea to stick to these tips.