If you want to transform your kitchen completely, then it is essential for you to take these 5 benefits of remodeling your kitchen into account. Remodeling a kitchen can not only help in transforming the look of your kitchen, but also in increasing the value of your home. A kitchen makeover can be simply exciting because you get your old space modified into something that looks new and vibrant. Many homeowners are of the belief that kitchen transformations are impossible because of the costs involved. However, it has to be kept in mind that you can benefit a lot from kitchen remodeling even with a limited budget.
1. Increases the Value of Your Home
Kitchen renovation is a very important and popular home improvement procedure. If you go for a very high quality kitchen remodeling, then depending on the value and the size of your home, you can expect to add 10 to 25% to the total value of your house. Projects involving kitchen remodeling are inevitably wonderful home investments. Your return on total investment can be 75 to 100% with a renovated kitchen and this is a very significant benefit.
2. Increases Your Happiness
Happiness is the original impulse inspiring a kitchen remodeling assignment. Happiness is quite valuable and if you are thinking of living in your house for many years, then you should go for a kitchen renovation. Keep your happiness in mind when you are planning the makeover of your kitchen, because it is always very easy to get equipped with tedious and complicated logistics. Kitchen remodeling can have a great impact on easing the stress that you go through in life; bringing families together and brightening the atmosphere of your house. These are the legitimate and important benefits.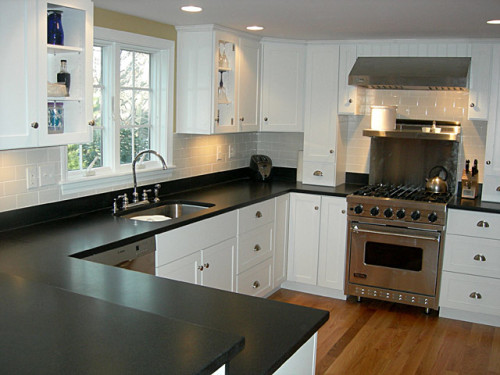 3. Updates Your Kitchen
Most homeowners waste their hard-earned leisure in preparing the dishes, eating and then cleaning up utensils in their messy, complicated kitchens having outdated appliances. You can provide a good improvement to your kitchen, by simply updating the appliances that you use in your kitchen. This would ease your overall cooking experience. Using a new range of appliances can also help you in re-discovering your lost love for cooking. Getting a new sink in the kitchen will allow you to enjoy the hard-core task of washing the dishes. But if you have a limited budget, then instead of updating the appliances, paint the cabinets and the walls using vibrant and fresh paint.
4. Helps in Getting Organized
Kitchen remodeling renders a good opportunity of optimizing and streamlining the available storage space and kitchen work. Most homeowners fight a continuous battle for enough space in their kitchens. A clutter-free kitchen is automatically a beautiful kitchen, and if you opt for a high-quality kitchen remodeling assignment, then it is necessary to address storage and work space related problems. This helps you in getting organized while working in the kitchen.
5. Gets Safe
Many homeowners might not be aware of the fact that, carrying out everyday tasks in a kitchen that is completely outdated can turn out to be hazardous. Some outdated appliances in your kitchen might not be functioning properly. Damaged floor might result is potential falls and slips and you might also face food safety problems with a damaged refrigerator. Proper kitchen remodeling can help you do away with these problems.
If you really want to feel safe and happy in your kitchen, then consider these 5 benefits of remodeling your kitchen.