The only thing that makes a home unique among the others in a neighborhood is its garden. With some garden landscaping ideas, you can transform your hard and plain-looking yard into a beautiful garden and a place of tranquility where you can entertain your guests, enjoy your passion for cooking or just kick back and relax in comfort. However, you need little help from some of the garden landscaping equipment to transform your small backyard into a tranquility heaven.
When it comes to making your yard beautiful, having some colorful plants and shrubs can really make a big difference. All you really need is a little inspiration and some plan. But before you begin your project that involves digging, you have to make sure whether you have all the utilities for making your dream garden become true. Rakes, flat shovels, garden hoes, trowels, cultivators and spades are some of the garden tools that help you a lot in gardening. But have you ever thought of pulling out the concrete, stripping the sod or preparing the foundation for the garden with these tools? Even though these gardening tools are designed for carrying out some of the tasks, they are not ideal for doing the tougher jobs that involve more digging especially in the areas where the soil is hard and clay type.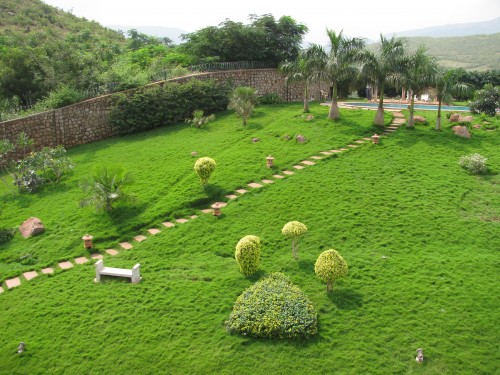 But without breaking the soil properly and without a proper foundation that helps to sink in all the essentials for the soil, a garden will lose its beauty in no time. However, material handling equipment such as the mini diggers come in handy in this situation. While they definitely have the power to cut through the soil, they do so without causing any damage to the roots when it comes to clearing the ground that has sod or turf.
Hitachi mini diggers are ideal for carrying out the tasks including the demolition jobs and for removal of the concrete slabs that are in your yard and even for pulling out the shrubs without causing any damage to the surrounding. Given their smaller size, they are ideal for carrying out landscaping work where space is an issue.
The other kinds of machines that help you in landscaping are the skid steers. While they are capable of sculpting and grading the land for your garden or for the parking lots, they also help you with brush cutting and mulching with some additional attachments. After you are done with the foundation of the garden with the help of mini diggers, you generally are left with the tedious task of clearing all the debris, saplings and small trees. Skid steer loaders can do just that and that too without breaking the soil with some simple additional fittings. These machines are also ideal for performing many of the other landscaping tasks and help you deal with fencing, edging, mini digging and small excavations.
After you are done with the garden foundation and the sculpting, all that you are left to do is the right kind of plants and shrubs that will compliment your garden. Chose the plants that are right for your region and also make sure they have shallow roots and do not damage your home's foundation. With all the beautiful plants and shrubs in place, cover the garden with a layer of soil over a landscape fabric that controls the weeds. And then add a layer of mulch and give it good soaking and your beautiful home garden is ready for you and your guests to enjoy.