The best way to choose a dining room chair is to have the type of dining table you have in mind first. Does your interior suit a modern glass dining table or a solid wood table?
Once you have chosen your table type for instance it maybe a glass tables we recommend you will usually want to go for a modern dining chair both made from materials such as polycarbonate plastic, leather and probably chrome legs.
For wood dining tables we usually recommend matching the chair in the same colour wood. Or very much on trend is to have a transparent chair such as the Kartell Louis Ghost chair, which mixes both modern and traditional pieces for a very trendy look.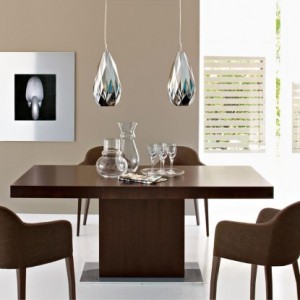 Other things to consider are the weight of the chair for moving it to and from the table.   Will the feet of the dining chair and the floor if they will mark the floor? Usually most chairs have feet pads to stop this from happening.
How many chairs will I need to fit around my dining table? It is recommended that each chair take up 60cm width of the table so a 2 meters table would be able to comfortably fit 3 people down either side and 2 more at either end of the table, which would be 8 people in total.
Last but not least is comfort if you tend to spend a lot of time in the dining room or kitchen table. Usually the set height of a dining chair is around 18 inches or 46cm. This leaves a comfortable gap of 39cm to let your legs under the tabletop that is usually at a height of 75cm.
Chairs made from different materials all have pros and cons! Padded Leather chairs tend to be hard wearing and comfortable but can get abit warm on your bum if you are sat on them a while.
Wood dining chairs are hard wearing and solid but are hard and are likely to be uncomfortable after sitting on them for a while.  Polycarbonate or plastic chairs can sometimes scratch easily but can be shaped in the seat pad to be a comfortable fitting chair.