The year 2013 has seen a rise in the use of green technology products. Green technology has come to replace regular technology as it promotes the welfare of the environment in which we live. The planet is on the verge of destruction and unless we are careful about safeguarding our environment, we will no longer be able to live in it comfortably. Green technology is not too different from conventional technology except for the fact that the burden on energy resources is less through the execution of these. The following are the 10 green technology trends for 2013.
1. Use of Solar Panels
These are being used in many homes and have been quite famous from some time. They have become even more enhanced and are available in different kits to suit everyone's needs. They trap the rays of the sun to produce electricity.
2. Use of Bamboo Furniture Items
The bamboo furniture items are healthy for the environment. These are very sturdy devices and last for a long time.
3. Use of Chimneys
Chimneys are increasingly being used in household kitchens these days. They regulate the release of toxic substances into the atmosphere and keep the indoor air clean.
4. Bamboo Laptops
These are laptop computers which have a frame that is made of bamboo rather than metal. Such computers are unbreakable and also look quite beautiful while also reducing the amounts of toxins and carcinogens that are released into the environment when disposed. E-waste recycling is also a good option to keep these pollutants to the minimum. However you need to check if the e-waste recycler you wish to choose has a registered facility to do so and adheres to the EPA guidelines.
5. Samsung Smart Window
The desk top or screen of this computer can be made to run on natural sunlight. For this purpose you need to place the screen before a window during the day time.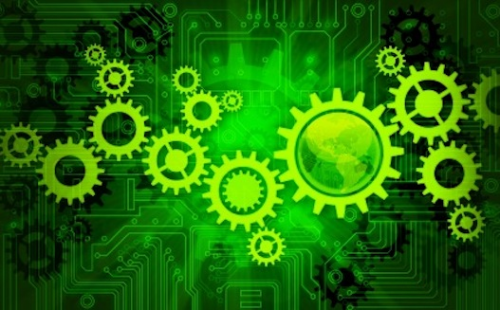 6. HP Photosmart E Station C510
This is an HP printer which is environment friendly. It is a double sided printer and saves energy by making the printing activities more efficient.
7. Sony SA Laptop
This is a computer device that is green in terms of functioning. It begins to dim itself automatically after a few hours of operation so as to save power.
8. Lenovo Think Stations
The Think Stations of Lenovo are made up of recycled parts. Hence their use is quite environment friendly.
9. Solar Focus for Kindle Cover
The Kindle Cover is one which can run on solar energy. There is no need for electricity to run the components of the Kindle Cover.
10. The Power Software Suite of Eaton
The data center runs its power operations through the use of this. Such a software product makes minimal use of energy.
Thus, there are many green technology trends that are quite interesting when it comes to protecting the environment. These 10 green technology trends for 2013 will ensure that the world does indeed becomes a better place in which to live.