Zero energy buildings are developed for utilizing green technologies that help in harvesting energy on location that can be distributed for further use. Achieving such a building with the expectations of the occupant and present day technologies is not at all easy.
Problems with zero energy buildings
For any building, zero energy is no doubt an ambitious goal which cannot be achieved without thorough attention to the building's construction, design, and operation. The primary goal of zero-energy buildings is to achieve system efficiencies and load reductions as well as meet remaining loads with energy that is generated onsite. Unlike, carbon neutral, net zero proves to be a tougher goal to meet. A project can easily become carbon-neutral provided that it uses off-site bio-fuels which cannot be recognized for fulfilling net zero realization.
Buildings that are capable of generating their own energy generally do it with PV or solar photovoltaic systems. If the roof of the building is the only available place where the PV system can be mounted, then it is quite obvious that a one-storey building will easily achieve net zero unlike some high storey building.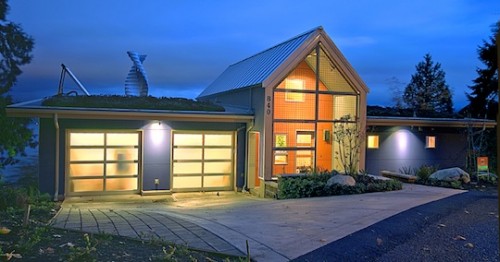 Reports have already stated that in the United States it is difficult to come up with zero-energy buildings that are more than four storeys in height. Achieving net zero for the buildings would require them to be free from shades resulting from adjacent structures or trees. This gives a clear indication that suburban homes have greater chances of achieving net zero unlike urban apartments or town homes. The environmental and energy costs for the supply of potable water as well as treating wastewater, offering data infrastructure and energy, and creation of roads for the transportation of vehicles are difficult to achieve for most buildings.
Advantages of net zero energy homes
No fear of increase in prices of future energy.
The uniform interior temperatures offer increased comfort.
Cost of living on a monthly basis is reduced to a great extent.
Overall ownership cost reduces significantly mainly because of improved energy efficiency.
Reliability improves a lot as PV's are available with twenty five year warranties and hardly face problems because of the natural weather elements.
Resale value of the home increases to a huge extent as majority of people search for buildings that are energy efficient.
As compared to the conventional buildings, the value of a Zero Energy Building rises every time when cost of energy increases.
Extra cost gets reduced for new construction when compared with afterthought retrofit.
The zero-energy buildings though difficult to realize in every place certainly hold the secret behind a safer, cleaner and a greener living.