Red is to get attention and home decorating with the red theme has been found to get applauded by visitors more frequently than others shades receive. There is much that can be done with red – from full red to only red accents – in home decoration.
Red for bedroom
Red has energising tendency, which makes it perfect for bedrooms. A straight idea for any master bedroom is vibrant blush painted walls complimented by Gustavian-style bed made of reclaimed fir. Light shade for wall-skirting, ceiling and window panes will be enough to bear the decoration-quotient of the entire room.
Instead of solid red walls, striped patterns can also have pleasant impression. Bedrooms with iron beds can be given a softening appeal with patterned red beddings. Patterns can be matching or different but should be pleasant for home decorating with red. In fact, a smart idea is to have similarly decorated bedrooms and red beddings with different patterns so that any set can be fittingly used in any room.
An innovative idea is not to use red on paint or beddings or furniture but accentuate a wall and furniture with impressive red wall hanging and decorative pieces respectively.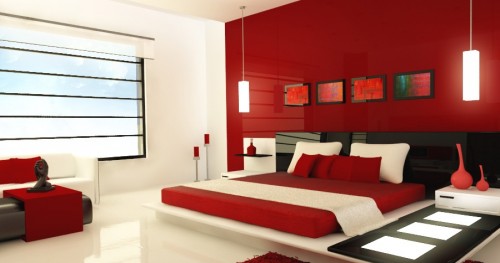 Red in Kitchen
Although red is often seen as a strong decorative colour, it can dramatically change the look and feel of utility rooms like kitchen. Kitchen cupboard, shelves and walls or any combination of these can be in red. With differently coloured kitchen appliances and utensils, which mostly contrast, the kitchen becomes a pleasant place to be.
The other idea is to include visibly bright red articles (one or few) such as a jar, a pot, etc. that will act as an eye catcher in the kitchen.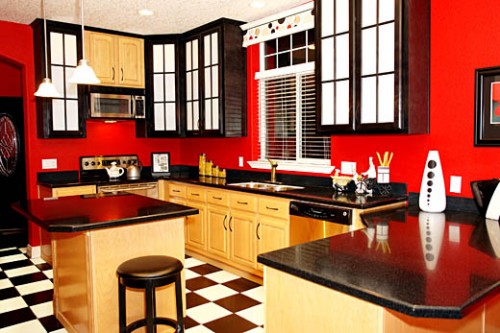 Red in Dining
Too much red or too little red, both work flawlessly in the dining room arrangement. The simplest way to bring the assertive characteristic of red into dining is a set of chairs in cherry or other bright red shade. Chairs can be minimalist or big sofa-styled. More detailed decorating of a home with red can be realised by red walls decorated with oyster plates or other wall hangings.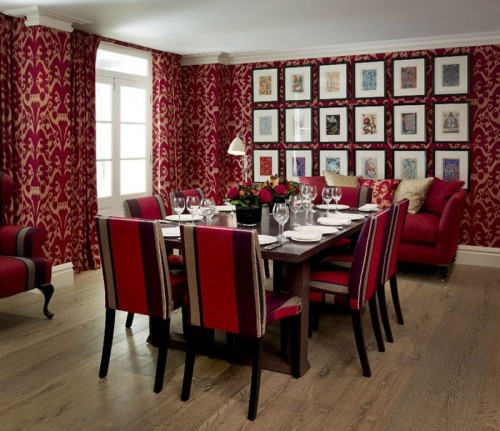 Red Accents
Undoubtedly, there are numerous ways to accentuate any room with red and improvisation in it is everyone's birth right. Curtains, throw pillows, etc. in red perfectly add the pinch. A canvas or a painting with concentration of red becomes the focal point on the wall. Even a dressing table or a wardrobe in sharp red is ideal for home decorating ideas with red theme. For more detailed exhibition of red, people can opt for red ceramic tiles, carpet, linoleum, etc.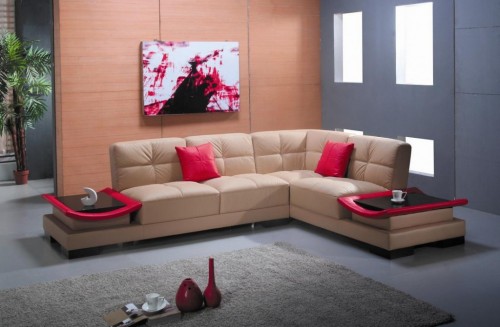 Red Door
It is said that the first impression lasts long. So, if a style statement is to be made with red, there is nothing more suitable to be in red than the front door. Almost all the shades are applicable on the front door.