Frank Lloyd Wright was the person who invented organic architecture and helped in promoting man-made structures and nature around. This type of architecture has surfaced as a common trend in architecture these days.
Objectives of organic architecture
The architecture apart from addressing environmental concerns has also helped in expressing individuality. Every building can be related towards variables like site, type, and man which have resulted in the structures being unrepeatable and unique.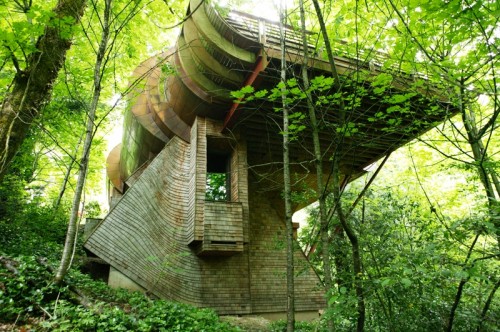 Origin and inspiration
Primitive indigenous architecture made use of natural forms, simple structures, local materials, and was innately organic. Perpendicular, rectilinear form of architecture which dominated the twentieth century reflected the age of industrialization. But, in the present millennium, designers are making use of new architectural form inspired by biological organisms and nature's creative forces.
United States is probably the place where organic architecture started off in its modern journey after Louis Sullivan one of the famous architects who described the principle form follows function. The sites chosen by F. L. Wright were often quite close to rock formations, waterfalls, and woods which made the buildings part of nature.
Characteristics
Design approach of such an architecture type gets its inspiration from nature and built form develops out of site similar to the way an organism develops from nature's seed.
The architecture type is radical in design, visually poetic, surprising, multifaceted, environmentally conscious as well as distinctive but flexible.
This architectural type is believed to be the mother of every architectural type and examples are available in the form of Sydney Opera House, Falling Water, Lotus Temple, and Casa Mila.
Respect towards natural materials.
The main idea behind organic architecture is to blend with the surroundings.
Honest expression of function of a building.
Approach
Respect towards natural materials.
The main idea behind organic architecture is to blend with the surroundings.
Honest expression of function of a building.
Exploring organic architecture
Present day architects are following the organic design concept and taking it to new heights with the employment of newer technology and materials in application of composition, rhythm and natural shapes top buildings. Organic design's re-emergence has helped in the representation of freedom of thought in a new way. Majority of design fields like furniture, products, textile design, lighting, interior design, landscape, and architecture are affected by this architecture type. More imaginative and liberated forms are now getting accepted and encouraged.
Inference
Rectilinear buildings cannot be considered as ideal forms of green buildings provided they work against dynamics of heat, fluids, sound, light, and force. It is necessary for the buildings to work with the flow of nature and help in the development of more economic, efficient, and environmentally favourable forms. Globalization has led to the expansion of cities which has resulted in less interaction between nature and man. Curvilinear and free flowing organic forms for organic structures inspired by nature will help in filling the void enhancing city spaces spiritually and aesthetically.
Organic architecture is evolving at a fast pace but there is a need to make increasing use of natural materials and forms.