Lego Architecture comprises of a series of sets designed by Adam Reed Tucker, the 'Architectural Artist', with each coming along with the instructions and pieces to set-up a micro-scale model of an iconic architectural building. These models are very helpful in creating the desired layout of the homes and they also improve the building skills of the kids.
Tucker started building these models after 9/11 as a way of educating the society on the engineering and design of skyscrapers. A popular magazine quoted him to be saying that he thought of using the Lego bricks as a whimsical medium to offset architecture's intimidating nature. His detailed and massive works soon caught Lego's attention and brought him aboard so as to start working on the Architecture series.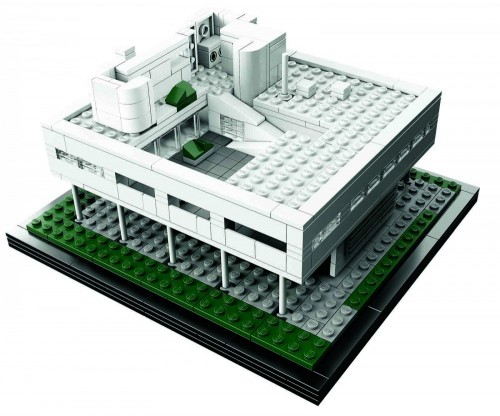 Lego's teaming up with Tucker resulted in really small models, constructed cleverly from the simplest and smallest of Lego pieces. The sets are artistic interpretations and not exact replicas, created by plastic bricks as the main source. The sets may be diminutive in size and are surprisingly expensive, but yet manages to capture the essence of each structure.
The series is successful in capturing the modernist designs like Villa Savoye (1929) and Farnsworth House (1951). A brief background on the masterpieces is provided in the extensive books coming with each set, elucidating the notable features and historic importance.
For Lego, this is not the first time that they are trying their hands to rope-in a design-savvy professional user. The Lego Architecture series has its origins way back in 1962, when the popularity of the company was at its rise and to cash on that, thin 'plates' were created by designers so as to make it a lot easier in constructing the detailed models.
The entire range of Lego Architecture is divided into two series – the "Landmark" series and the "Architect" series. Collections include Willis Tower, John Hancock Center, Empire State Building, Seattle Space Needle, Guggenheim Museum, Fallingwater, the White House, Rockefeller Center, Farnsworth House, The Burj Khalifa, Robie House, the Brandenburg Gate, the Big Ben, Sydney Opera House, Sungnyemun Gate, Villa Savoye, the Eames House, Leaning Tower of Pisa, Sears Tower, United Nations Headquarters and the Lego Architecture Studio.
The production process of the Architecture Studio started only after noted architecture companies from all over tested and endorsed it. The list includes giants such as REX architecture, SOM, Sou Fujimoto Architects, Safdie Architects, Tham and Videgard Arkitektar, MAD Architects, etc. The pieces and the user guide are designed in such way so as to educate one more about concepts such as section, space, mass, symmetry, scale, repetition and modules.
But one can safely say that these sets are only for collectors who will be keeping them seated on a shelf and let them collect dust. Moreover, for the aspiring designers and artists, they need to design suburban homes with UFO landing pads, lasers and castle turrets instead of building efficient, austere forms.