Add flare to your interior or brighten up a room or bring a plain wall to life with unusual wall art ideas. Pep up your home with whatever ideas come up to your head and give it a fuller form to create an innovative and novel idea to decorate your homes. There are also various forms of art such as canvas paintings or photos in frames that can be turned into more beautiful show pieces with a slice of your imagination. You can spice up a simple photograph with a new or classy idea and transform it into a rare form of masterpiece.
Let your imagination go wild and all your walls will be filled with lots of ideas and freaky or trendy art forms. You can also bring back ideas inspired from your childhood and make it into an art and hang it on your wall. This is the right time to let down your hair and dab some paint. Create murals along with your kids or spouse and make it a fun filled activity. When trendy, hang it on the wall and let generations speak about it. It will also bring tears of joy when you think of the way you made it after a few years later.
Fulfil your desires of the past with unusual wall art ideas
Have you dreamed of having a picture of a huge African elephant in your living room as you were inspired by its giant size? Or dreamed of having a gold and black dragon, the character which you enjoyed in a cartoon? Give life to all your fantasies and bring them to reality. You can also try your hand at drawing them on photo wallpaper and then fix it on your wall. It will stand as an example of your creativity for more years to come while adding the hint of beauty to your home. You can also enhance its look by availing professional service to add a touch of elegance to make it more appealing.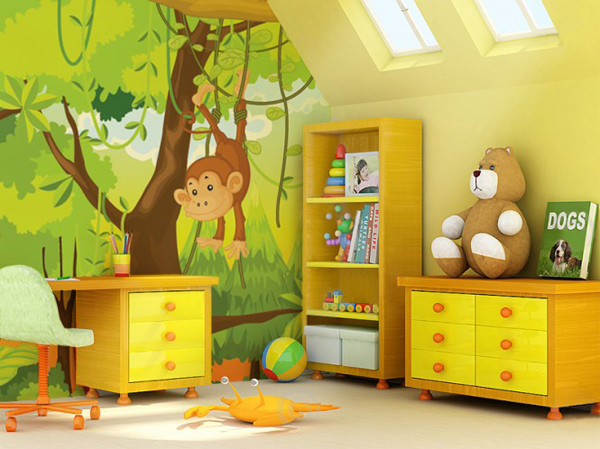 Bring in the contemporary and trendy look with unusual wall art ideas
Conjure up the creativity in you and create a fusion of both traditional and trendy look in whichever things that you wish to. You can try a traditional motif on a trendy flower vase or a funky design on a cool showpiece. Liven up your fireplace with revived photo frames of you and your family together. Also add a touch of color to the old photographs and change the background as per your tastes. This way, you can recreate the magic in an old photograph and reinvent it. You can also spice up your living room with a slice of nature scenery with birds and waterfalls as the backdrop to add a touch of nature to your living room.
Create interesting unusual wall art ideas with crockery in your kitchen, magazines or posters model inspired by the press to have an intellectual feel, arrange big and small objects in different shapes and sizes that would make it look cosy and try out a few trendy 3D designs on a vintage back ground in the wall to give the room a combined look of traditional and trendy.