Your fall home maintenance checklist should be within your ability and it should also work wonders in maintaining your home from the damages caused due to fall. Fall is that time of the year when you should take utmost care of the smallest things in your house that can have a huge impact on you and even on your house. Hiring a professional to maintain your house during the Fall is the best thing that you can do. However, if you are aware of the things that you need to do in trying to maintain your house during fall then it would help in saving lots of money.
Keep the gutters clean
The drainage system on your roof deflects thousands of gallons of water from the foundation and the exterior walls of your house. This is the reason why it is very important to keep the drainage system flowing very smoothly. If you have clogged gutters, this can result in the damage of the exterior surfaces and water clogging in the basement. Clogged gutters are even prone to corrosion and rust. Therefore, professionals such as Fortified Roofing suggest you should have the gutters cleaned thoroughly before the fall and then get them covered using mesh guards to keep off debris.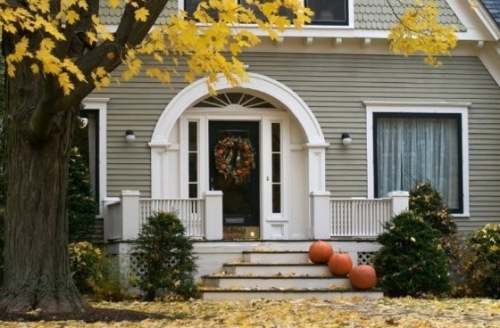 Check for gaps in caulk and weather stripping
A house with certain air leaks around doors and windows is very similar to an unbuttoned coat. Gaps in weather stripping and caulk can result in an increase in heating bills. Weather stripping is the most effective method of reining your cooling and heating costs. Weather stripping is a humble material that also brings about a reduction in drafts and keeps the house comfortable all round the year. Periodical inspection of water stripping is very important because it can deteriorate with time. You should also check for damaged or missing caulk around doors, windows and entry points like gas, phone, cable and electricity.
Inspect your roof thoroughly
There is no other homeowner problem more vexing in comparison to a leaky roof. Stop your annoyances from turning into disasters by finding the source of the dripping before it even starts. Proper inspection of the roof from the top to the bottom is very important. This should be done with the help of binoculars if required. You should also check the ridge shingles for wind damage and cracks. Also look for damages to the metal flashing around chimneys and vents and in valleys. Carry out the inspection of your roof for curled, damaged and missing shingles. Scan the gutters for large granule accumulations serving as a symptom of your roof losing the coating.
Check your drives, walkways and steps
Damaged drives, steps and walkways are a hazard during the entire year, but the dangers they cause are compounded during fall. Fixing these issues during the fall is very important to prevent small issues from turning into expensive headaches. You should always carry out a thorough check for uneven sections, cracks and the loose railings on the steps. Also check out for washed-out materials and asphalt disintegration. These are some inclusions in your fall home maintenance checklist that can have a huge impact on the appearance of your home.