More and more homeowners are looking to renovate and improve their properties for the greener good – and for the good of their savings! Take it upon yourself to create a more eco-friendly place to live by tackling these green home projects.
Green light fittings
Did you know that standard household lights contribute to 25% of the UK's carbon emissions alone? A scary thought, but one we can easily rectify by lighting our homes with less harmful models. Domestic lighting quite literally costs the earth – do your bit for the environment and fit energy saving light bulbs in as many areas of the house as possible. Look for the Energy Star logo when buying energy saving light fixtures and fittings if you're unsure.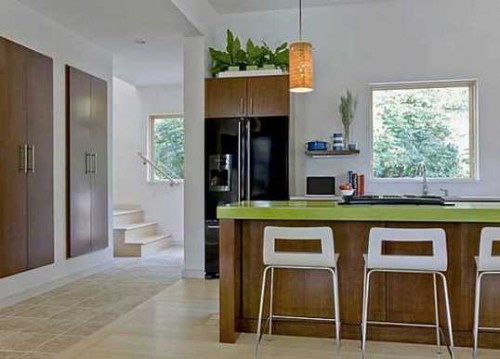 Limit drafts
If you often feel drafts of air while walking around the house, you could be losing up to 20 percent of air and – more importantly – heat energy. This is down to poor seals and connections in the house in the attic and on skirting boards. Reclaim lost energy by using sealant and expanding insulating spray on any cracks and holes.
Pumped cavity wall insulation
A well-insulated home requires less heating which in turn reduces gas and carbon emissions and the cost to install quality wall insulation will pale in comparison to the money you will save on heating bills. The process of insulating a cavity wall is fairly quick and straightforward. If you make one significant renovation to your home, this can be the most worthwhile boon to the planet and your pockets!
Paint green
Many regular brands of household paint can contain highly pungent chemicals and noxious gases, some of which can remain in the atmosphere years after painting a room – the last thing you need when painting and decorating. Next time you redecorate, look for plant and water-based eco paints. The end results are just as effective and far kinder to the planet and since they are made with natural ingredients, they promote better ventilation.
Earth-friendly enhancements in the home can call for a wide range of versatile tools and fortunately, some places just happen to store everything under one roof. The trusted Tool suppliers Elcocks have more than 40 years experience under their belt and an impressive catalogue of home improvement equipment to show for it. Whether you require paint rollers or the more heavy duty items, Elcocks won't disappoint.