The period between the 1980's and the 1990's were full of people who loved to have a house having the look of a vintage modern home. Being out of favour for some years the trend seems to have come back in today's times. It is particularly popular among the urban and the young apartment dwellers.
Features
Numerous common elements are shared by vintage modern home furnishings. The table-legs, chairs and consoles are slender and often get placed at an angle. Instead of being plush, the upholstered furniture is rigid with slim track arms and long beach seats. The by-gone era technology gets reflected by the period accessories such as the Sputnik satellite styled mirrors and the sunburst clocks.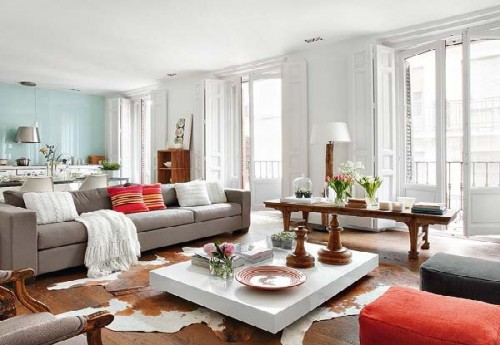 Inspiration
The decorating inspiration can be drawn by watching TV shows like "Mad Men" and others. Otherwise, they can easily explore the numerous decorating styles by visiting the places of vintage modern home enthusiasts. Even surfing websites which feature these vintage decorating ideas can be a great option.
Scale
If someone is planning to mix new furniture with their home furnishings, then they need to make sure that the scales are attuned. The modern furniture is more focussed on the "huge", whereas the mid-century designs are smaller and reflect a low profile. One should be choosing new chairs and sofas with lower arms, so as to make them compatible with vintage modern tables. If someone wants to use bedside tables of vintage modern origin next to their pillow-topped mattress, they must switch to low-profile springs from a traditional foundation. In both the cases, one should make sure that their lamps are fairly tall, so as to provide light at the exact place. Raised platform can also be used as base in this case.
Selection
For turning their place into a vintage modern home, one should be looking for furnishings inspired or made by celebrated designers like George Nelson, Eero Saarinen, Florence Knoll, Harry Bertoia and Ray Eames. Rather than filling the room with substandard examples, one should be selecting a few good quality focal point pieces. Sturdy frames could be a good choice for vintage upholstery.
Sources
One should be targeting flea markets, thrift stores and antique shops for home furnishings. They can also go through classified listings and online auctions. Garage sales can also prove to be lucky. One should think thrice before throwing away their old furniture
Buying vintage and modern
Accent pieces such as coffee tables or side tables are a must. These can be freshen-up by hanging the flat screen TV in an old console or putting a bedroom dresser in the hallway. Bigger pieces such as an armchair or a sofa needs to be considered when one is planning to blend in vintage and modern together.