A deck adds value to your outdoor spaces making it a great place for patio furniture, potted plants, and a BBQ. Over time, though, without proper maintenance, a deck can start to rot and lose its aesthetic appeal. Here are some tips for keeping your deck looking new from one year to the next.
Use Pressure-Treated Wood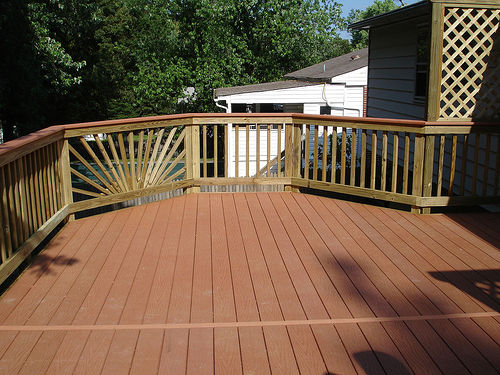 Image via Flickr by Shmoomeema
When building a deck or replacing areas of the deck, make sure you use only pressure-treated wood. This wood is made to be more durable than other types of wood. Types of wood include western hemlock and white fir lumber. A vacuum/pressure cycle is used to force preservative into the wood, which helps to bind together the preservative and wood fibers to make the wood stronger. It's more resistant to decay, rot, and insect attacks. However, note that it does not protect against some weathering effects like splitting and cracking or checking due to sun exposure.
Seal the Wood on a Regular Basis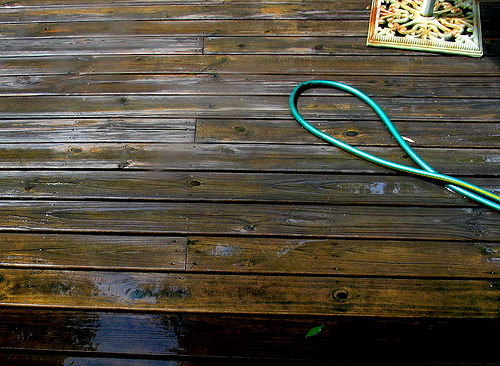 Image via Flickr by cdsessums
If you're not sure if your wood needs to be sealed, there's an easy way to figure this out. Splash some water onto your deck and see what happens. If it beads up, you're fine. If it is soaked in immediately, it's time to put sealant on your deck.
Choosing a sealant depends on your needs. A clear or semi-transparent seal will give your deck a more natural look and let you see more of the wood's grain. However, it won't protect your wood as much from UV rays, so it will have to be applied more often. A darker stain will protect your wood better and may be a better choice for redwood and cedar, which tends to bleed.
Replace Warped, Cracked, or Broken Boards
Image via Flickr by fringedbenefit
At the beginning of each spring, as the weather turns warmer and it's more pleasant outdoors, take time to examine your deck for any worn boards. Look for warped, cracked or broken boards that need to be replaced. Just as you did when you built the deck, buy replacement boards of the same pressure-treated wood. This wood should come without knots, so it's less likely to crack. When laying boards down, but sure that the natural curl in the grain curves down when laid to prevent puddling.
Treat Wood for Termites
Though pressure-treated wood is resistant to attacks by insects, it's still possible for this wood to be eaten by termites. There are some things you can do to further protect your deck. First is to remove wood that is located near your deck, such as stumps or garden surrounds. Wooden structures that lack termite treatment can attract termites and lead them to your deck. Cedar mulch near your deck can also help deter termites, though it needs to be replaced on a regular basis to continue to be effective. Of course sealing your deck regularly with also help.
By using pressure treated wood, sealing the wood regularly, replacing wood, and treating for termites, you can keep your deck looking beautiful for years to come!