Are there no buyers coming for your home? Do buyers disappear after viewings without even muting the possibility of an offer? It may be time to have a look at the kitchen. In the property market of today, kitchens are very important; some might say essential. The style, size and feel of the kitchen can make or break a deal. You may have painted your home, or landscaped the garden, but a kitchen makeover may have far greater impact on prospective buyers.
According to Mike Taylor of Bespoke Kitchens, an expert with decades of kitchen experience, "home buyers are on the lookout for stylish, light and practically fitted kitchens that make excellent use of space. The kitchen design should fit the exact measurements of the room, without any awkward edges and with appliances perfectly integrated into the design."
So if you are finding it hard to sell your home get to work on your kitchen.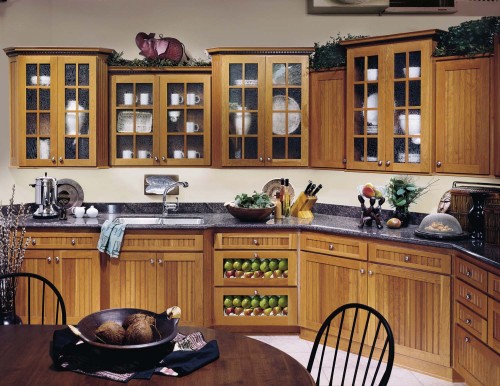 Think Carefully About the Style
Before you get to work, and tear out your existing kitchen, you should take a timeout to consider what style and design would appeal to the kinds of buyers you are looking to attract for your home. If your home is a warm country-cottage, splashing out on an expensive modern design may not be a good idea, as it is bound to look out of place. In the same vein, adding a cosy homely rural kitchen design to a city central flat isn't a good idea either. If you are targeting the family market, you should be looking at a kitchen design that is durable, resistant to scratches, and feels spacious.
If you have made a decision about your target market, it is time for you to decide on the kitchen design to go with. Below are some options for you to think about.
The Rustic Country Kitchen
With small country kitchens the main things that stands out are the extensive use of wood and an overall light colour palette. The detailed texture of the wood brings about the feeling of being in a farmhouse. Other common features of this type of kitchen are wide spacious workspaces, open shelving (where herb and spice collections can be displayed) and overhead cabins.
High Gloss
A high gloss kitchen design is all about being sleek and neat. Perfect joinery and straight lines are the order of the day. Handles are incorporated neatly into the design instead of being added as an accessory. Stainless steel appliances get fitted as fully integrated component of the design, so as to ensure a truly smooth finish. When done properly, high gloss designs appear stylish, tidy, clean and fresh. Everything in the kitchen must have a place where it can be hidden to avoid impeding the aesthetic design philosophy of the room.
Bold and bright
Colourful kitchens, like these on Pinterest, are dicey, as taste in this area is highly subjective. However, a kitchen that is properly designed, can be brought to life by a good splash of colour. The trick here is to select a colour palette where every hue compliments the other, and to use colour strategically. The main aim is for your kitchen to hold together as one room, rather than a hurriedly assembled collage of walls.
These are just a few ways you can improve your kitchen so you can sell your home. Speak with bespoke kitchen specialists, and benefit from their years of experience.