When the time finally comes to sell your home, you don't want to find yourself disappointed with its valuation. Or worse still, wondering how and where you could have made simple yet effective improvements, in order to significantly improve property values.
As with many things therefore, the key lies in being proactive and strategic, putting in place the required measures today to benefit your home's value tomorrow. In terms of which options to consider, there are certain examples that are largely guaranteed to add significant value to your property, over and above all others.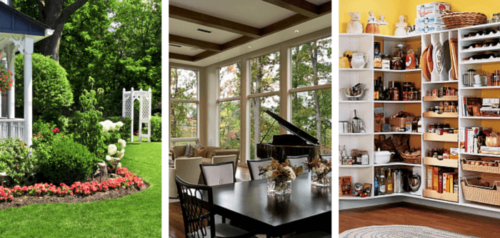 Conservatory
Conservatories come in many shapes and sizes costing anything from £3,000 to £36,000 (source: whatprice.co.uk) but the expense will be worth it by adding serious value to your house. An article on thisismoney.co.uk suggests a return on investment of adding a conservatory to your house of 108%.
You'll more than likely need a loan to fund the extension and depending on your credit score. Visit Clearscore to find out why your credit score is important. Once you have worked out your finances, this will tell you if the conservatory extension is viable.
Garden
Don't forget that the first and last thing prospective property buyers see is the exterior of your property and its gardens. Not only can beautiful gardens contribute to overall property values, they can be outright deal-breakers. These days, it's seen as far more important for gardens to function as practical and enjoyable living spaces, than to simply look like a work of art. If you can make those viewing your home see your gardens as spaces they'd love to spend time in, it could add thousands to the value of your property.
Exterior
Following on with the same point, the way the exterior of your property comes across can and will make a huge difference. Cracked driveways, peeling paintwork, worn front doors and so on – all easy problems to rectify that could add up to a huge difference. Never underestimate the power and appeal of a coat of paint here, a little exterior lighting there and those added touches that make the place look immediately inviting.
Roof
There are two options open to you when it comes to your loft – insulating it well, or converting it into a living space. In the case of the former, it's highly unlikely in this day and age that viewers of your home will respond kindly to an un-insulated loft. As for the latter, the addition of an extra functional living space can not only transform the appeal of your home, but add tens of thousands of pounds to its overall value. In most instances, loft conversions tend to be the kinds of investments that pay for themselves.
Floor Carpets
Last but not least, worn, dated and generally lacklustre carpets can make an otherwise spectacular home look and feel entirely unappealing. Even if it's entirely subconscious, your carpets will be viewed and taken into consideration on a constant basis as viewers inspect every room of your home. Just as uninspiring carpets can be off putting, immaculate carpets throughout the home can add thousands to your property's perceived value.