Skidmore Ownings and Merrill [SOM], engineering and architecture firm, in defiance of the conventional building materials, has chosen mass timber as the basic building materials of the skyscrapers, as it seeks to minimize carbon footprints of the building.
After exploration of the concrete quality of timber as it stacks up, through the Timber Tower Research Project, the renowned firm applied the concept to 1965 built 395 feet high Dewitt-Chestnut Apartments located in Chicago.
The basic structural material being timber in the system, "Concrete Jointed Timber Frame",
the stressed locations and connecting joints are built with the supplementary reinforced concrete.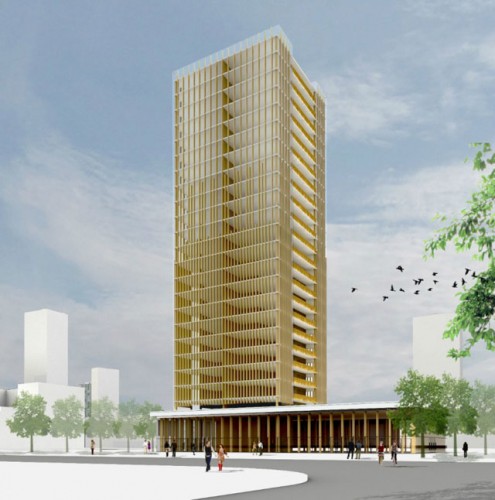 While competing with the conventionally used concrete, steel, and masonry, timber would also resist the carbon footprints of the building up to about 75%.
The firm said that tall buildings have both "negative"and "positive" impacts on the environment. The system also considers interior design, architecture, building services, and structural engineering with fire protection and construction cost. However, a physical testing would be carried out for the verification of timber's performance.
The tallest building in the world built of timber is located in Melbourne. It is a 10-strorey site with the name 'Forte'.
While the jury is still divided in its opinion on if timber can out do the quality of conventional building materials, SOM hopes to inspire the urban architecture on considering wooden applications.