The greenest of all building materials, unarguably, is wood. It cares for the environment, itself being renewable and sequestering carbon, thereby increasing the life of building.
The present engagement of Michael Green, the Vancouver artist, is wood with which he has been working for quite some time. Last year, the architect had told the Tree Hugger in an interview that it is the earth that grows food for us and hence the earth can also grow homes for us. He stressed on the need of an "ethical change" in the minds of people.
The pro-green architect now exhibits his concept with WIDC or the Wood Innovation Design Center at Prince George in British Columbia.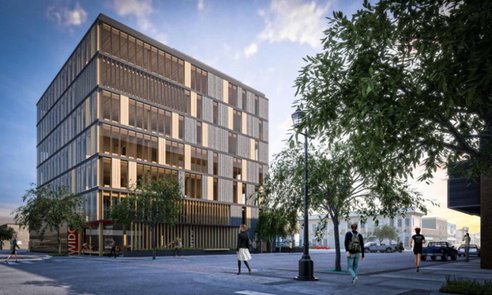 The building abides by the British Columbian limits and restricts the building to having six storeys. But ceilings of each floor are higher than average, thus making the building possess height of a nine storeyed building and to make sure that it is tallest in North America.
The CLT or the Cross Laminated Timber towers make use of load bearing panels. But, WIDC makes use of post and beam design of glulam, that has floor panels from MTP or Mass Timber Panels. This is especially suited for office buildings that should be spacious.
The concrete industry, on the other hand, is furious with the approach of the British Columbian government to promote the use of green and wood for construction.