Alexander Groves and Azusa Murakami love turning trash into modern treasured items. The sea chair is the new item for the duo, better known as the Studio Swine.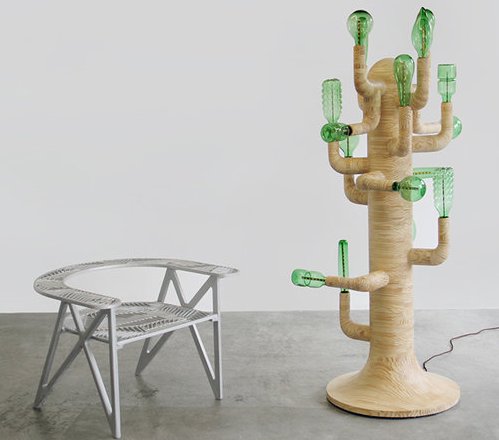 For the chair, they have combed the beaches to gather plastic debris. Their all new Sao Paulo collection bedevils all and is made of the stuff designed for bin.
For the production of the series, that has each of its element drawing inspiration and forming from the surroundings, the duo spent five months in the city. In their discussion with Co.Design the duo revealed their approach of researching places thoroughly so as not to miss out on the "resources".
The components made of aluminum were bought from the waste collectors and the carpentry shop had the pine off cuts and glass refuse.
Groves and Murakami has tweaked the production methods as well. In fact, they have eliminated some of the steps from the conventional recycling technique. They heated the bottles in kiln to a temperature perfect for re-blowing.
Aesthetically, Tropicalia occupied the central position. It shows a superb blend of the taste of the fruits and local flora, the very essence of mid century modernists such as Oscar Niemeyer and Joaquim Teneiro, sometimes even the shadow cast by the Palm fronds. The standing lamp, too, address the aesthetics of the viewer.