The architecture of offices definitely influences the productivity of the business. Various companies have ultra modern office interior designs in order to match the changing work culture and requirement. The office architecture of these companies ranges from minimalist to creative to futuristic according to the requirements.
Evernote Offices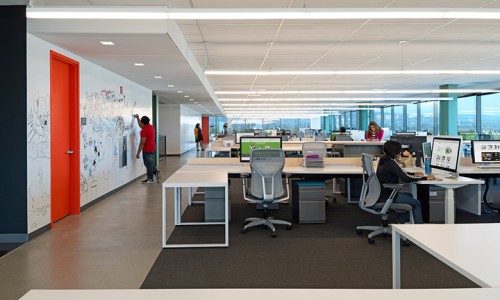 Evernote has more to it than just the popular and efficient application. The growth of the company led to the construction of clean office with ultra modern interior design. Instead of extravagant material, Evernote opted for rich architecture, which impresses its finesse upon the material. There is a coffee bar with pastries and donuts at the reception promoting the informal theme. The staircase connecting the 4th and the 5th floors has cushioned step seats for informal meetings, breaks, etc. The fitness centre, the communal dining hall, coffee and snacks counters are all strategically designed and located to allow casual interactions.
Form & Code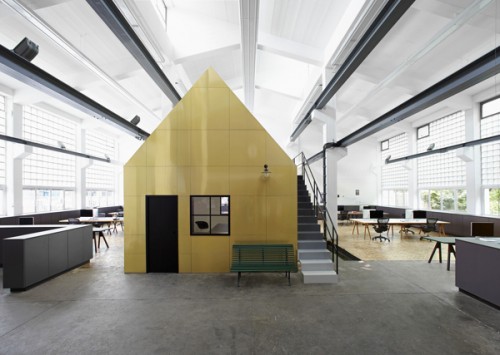 The Halle A-Loft is a beautiful design studio that was formerly a metal works shop. Presently, the creative minds of Form & Code use the area to unleash their creativity. The ultra modern office interiors include various design flavors that have been subtly combined making a uniquely styled office. From classic patterned rug to minimal workrooms, the office is all about mixes and matches.
Google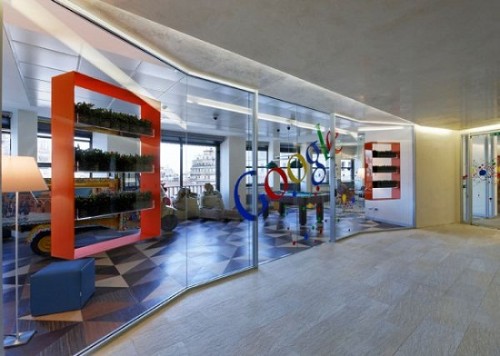 Google's Dublin office interior design is an ultra modern marvel of architecture. Every floor in the campus is inspired by one of the divisions or goals of the company. Some of the themes Search, Appiness, Be Green – emphasizing ecological concern, @Home – dedicated to making users feel at home, Create, Organise and Innovate. Enough cannot be said about its architecture. Perhaps, the best and the most inspirational characteristic of all Google offices is the sustainability and the Dublin campus is also hopeful of Gold and Platinum certification from LEED.
McLaren Headquarters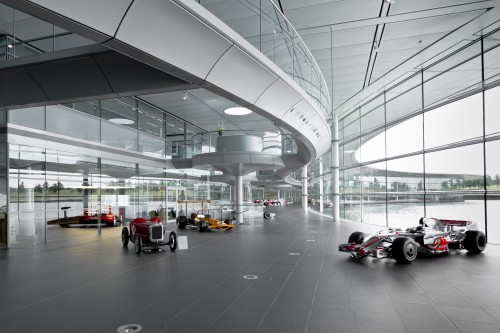 The McLaren Headquarters in Surrey is, perhaps, the most minimal headquarters for a company of the class of McLaren. Its ultra modern office interior design is extremely clean and sterile with no big neon-lit signs, uselessly high structures, etc. The building was designed especially low to suit landscape of the location. £300 million were spent on the construction of this structure.
Shoffice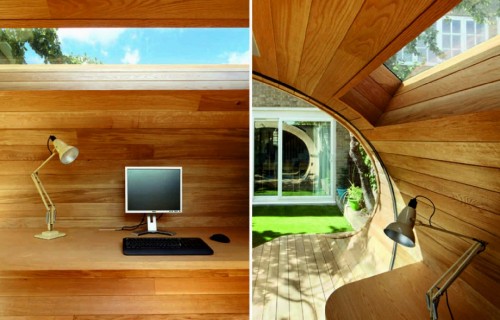 The amalgamation of Shed and Office forms Shoffice, which is an innovatively designed structure in the lawn of a mid-20th century-terraced house in St John's Wood. Its exterior design is inspired by wood-shaving thrown in the garden. The timber-made elliptical shell houses a cantilevered desk, storage and 2 roof-lamps. One lamp lights the desk while the other is strategically installed under the open sky to lit-up the rest of the office. Besides, the roof has glassed windows to let light and eliminate the hassle of opening or closing during rainfall. Though the office has minimal features, its design is unarguably ultra modern both at the interior and the exterior.