Homes that are having limited accommodation space can opt for wall beds. They offer perfect solution for those house owners who are grappling for an additional bed that can easily fit into limited space. These beds are also increasingly popular among customers who are living in studio apartment as they are easy to fold for providing space to conduct other activities during daytime.These beds are known as Murphy bed and can be folded in a horizontal or vertical position after use. Now when it comes to enumerating the overall uses and benefits of wall beds, it comprises of following points:
Can save lot of money
As these beds fit perfectly despite the existing space shortage, it deters you from investing money for broadening the accommodation area of your living room. In addition to that, the purchasing costs of these beds are also quite affordable and can be easily placed with reduced effort. With its help, you can now create additional space to have a sound sleep at night.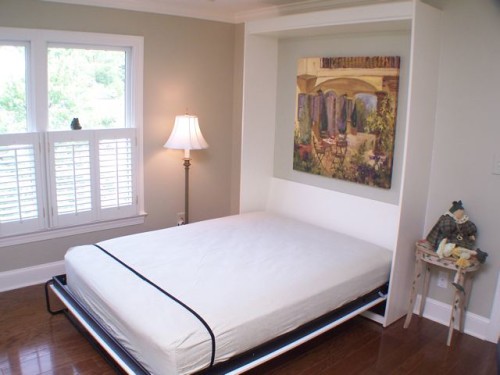 Easy and quick to use:
These beds do not occupy the existing limited space area of your house on a permanent basis and can be easily rolled back or folded to provide space for other activities. So unlike general beds, it creates very little fuss as house owners have the option to remove them anytime they want to. Previously, it was not possible and people had to face considerable trouble while roaming inside the house.
Ideal to lift up the interior décor:
Now wall beds are also becoming an important room décor accessory and you can buy them not just as an additional sleeping option but at the same time for transforming the environment of your contemporary living room design. They are available in numerous designs and so you have the sufficient option to buy the one that suits perfectly with your lifestyle. For bringing variation into your daily environment they offer the most appropriate alternative.<
Remain tidy and clean:
These beds do not require much cleaning and washing. Only occasional shaking is enough to get rid of the dust layer. As it can be folded sufficiently, there is already limited chance of dust and dirt accumulation. Even if deposition of particles take place, it will be on its exterior surface not in the portion where you lay down your body for having rest.
These are some the basic uses and benefits of wall beds. Undoubtedly, it is better to look for them by well-known brands so that you can enjoy it with no unpleasant experiences. These beds come with folders and it is for you to make sure that they function perfectly otherwise you may tumble while using them. But folding this bed can be a pretty difficult for the old people. In such scenario it is proper to buy such bed based on piston mechanism for easy handling with less physical effort.