The decoration of a room should depend most importantly on the shape and size of a room. The living room being the place most visited by the outsiders, special attention should be given to the decoration of the room. Decorating a living room is not a very complicated task with the help of living room decorating ideas. However, it would become messy in little time after it is cleaned, the living room should always look soothing and pleasant to the eyes of the outsider.
The arrangement for seating should be proper as it is the place most visited by guests. It is not just uncomfortable but also uncouth when people visiting the home have to find out a seat for themselves. Whereas fold-away couches take less space, they are not too welcome objects for the living room. These couches are not comfortable to sit. In a case when the living room is not spacious enough, management of space should be done in a different way. For instance, a flat panel television is good as it can be hung on the wall rather than keeping it on floor where it takes good space.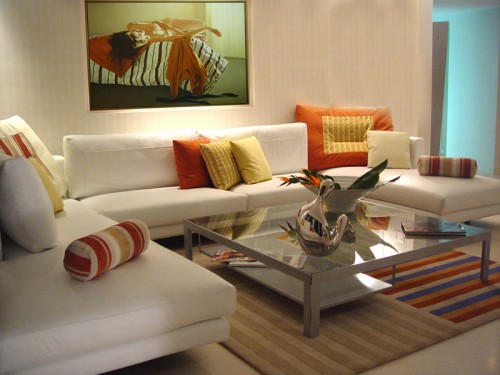 The most important among the living room decorating ideas is to avoid littering the room. Keeping all the objects in an organized way would be the best way for making the room look spacious. The fewer the decorative objects, the more organized the room would appear. There are people who believe that heaping their living room with decorative pieces and objects would make their room look better. But this is a misconception. Too many decorative pieces would make the room look more congested and less spacious.
The layout is an important thing in decorating a living room. The sofas, chairs, and couches should be placed in a manner such that the people sitting there can communicate with each other. This can be done by placing the chairs and sofas in a circular pattern or closed pattern so that communication is possible between all.
Most of the people forget the floor. The floor is the most visible area of this room and it should be decorated as well. A nice and colourful rug would be just great. However, the rug should go with the theme and colour of the living room.
Last, but not the least, among the living room decorating ideas is to keep the walkway clear for the guests. The seating arrangement should be such that it does not block the walkway which should always remain clear. It is unpleasant if the guests have to walk around and about various objects before they reach the sofa or before they reach the door when going back.