Picking the kitchen countertops is not an easy task as too many options leave the homeowners confused. The kitchen countertops must look good and also should add to the charm of the ambiance while fulfilling their very purpose. When you are in the search of the countertops for your kitchen, you cannot afford to make mistakes as you cannot be replacing countertops often. The countertops you choose should withstand the regular wear and tear and in that they should be heat resistant. Find a few tips to choose the must-have kitchen counter tops for your interiors.
Countertop space and functionality
When you choose kitchen countertops, there are lots of things to consider. The functionality should be preferred over the decorative feature of the countertops. They should be spacious enough to make your cooking sessions hassle-free. The size of the countertop should be determined based on the size of your kitchen, budget and how you prefer your kitchen to be. Think about the traffic flow and determine which the best size of your kitchen countertop is. Determine what sort of activities you would be involved in the various countertop areas.
Countertop materials
If there is an area in your kitchen that is used for different purposes, then it is the countertop. When you want to know more about the countertops for your kitchen, it is essential that you know what type of materials are available in the market. The material should be non-porous and should not require much of any maintenance. It should be able to withstand stains and scratches and should be affordable too.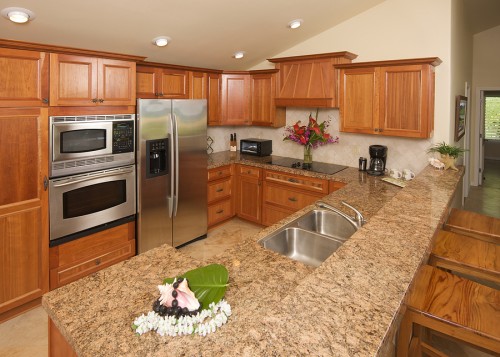 Granite countertops
Granite is the most popular material for kitchen worktops. It is a natural material and you can find each slab unique. This material is durable and sturdy too and you can clean it easily while it is also easy to maintain. When you choose granite, you need not replace the countertops often which is another added advantage. It can withstand stains and no scratches can damage this material. All you need to do is to get it sealed once in every 2 years.
Quartz
This is another superior choice. This non-porous material comes in wide range of colors. It is also known for its anti-bacterial properties. Other pros of choosing quartz for the kitchen countertops are that, this material is easy to clean and maintain. The countertop is also known for the contemporary design.
Wood
Wood is known for its affordability, but there are a certain downsides. This material can chip, stain, and scratch. You can also find this difficult to maintain and clean. But there indeed are many home owners who still go for this kind foe their beauty.
Other popular materials
If you want to get a commercialized look to your kitchen, then choose stainless steel which offers a clean look to the kitchen. Acrylic can be chosen to offer a splash of colors. Plastic is another inexpensive choice but it can be damaged easily because of the hot pots and utensils.
Make sure that your choice of kitchen countertops should be durable and should not encourage the buildup of moisture.