Kitchen cabinets are for more than your kitchen. These convenient pieces can find a useful life in nearly any room of the house. Try these smart approaches to incorporate the features and functionality of kitchen cabinets anywhere from the bedroom to the living room.
Build a Custom Entertainment Center
Create an entertainment center that's packed with storage and built to your exact specifications using kitchen cabinets. Choose base cabinets and your preferred countertop for the bottom of the entertainment center. Mount another matching cabinet above for added space. Leave open shelving on one side for your Blu-ray player, gaming system, or other electronics. Let cabinet doors conceal movies, baskets of extra cords, and other items. This storage-packed solution is ideal for a studio apartment or home with limited space.
Create Cozy Window Seating
You might spend your time discouraging children from sitting on the kitchen counter, but a well-placed cabinet in the bedroom or living room will let them do just that. Fit a low cabinet beneath a window and top with a plush cushion instead of a standard countertop. Enjoy the added storage beneath your cozy seating for stashing pillows, blankets, stuffed animals, or toys.
Add Desk Storage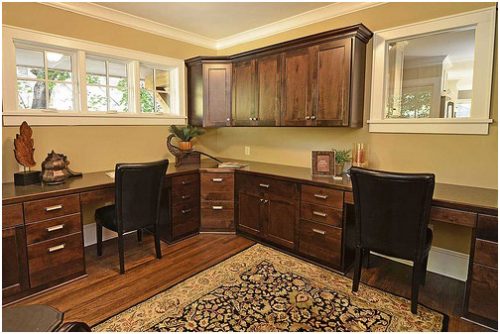 Image via Flickr by christianbroscabinets
If your office is lacking space, you can add ample storage solutions with repurposed kitchen cabinets. Place two cabinets on either side in place of legs, and the countertop spanning between can become your desktop. If you already have a desk you love and just want to add more organizational features to the office, use wall-mounted cabinets above your desk to stash your printer, craft supplies, and other desk accessories up and out of the way.
Mount Bathroom Cabinets
Kitchen cabinets can find a useful second life in the bathroom. Paint or refinish a repurposed cabinet and your existing bathroom cabinetry to match. Tuck your new cabinet in any unused space. If you have a large bathroom, place the cabinet along an empty wall and use the surface as a vanity. Short on floor space? Mount a cabinet above the toilet and use it to tuck away extra toilet paper, towels, and soap.
Stock a Quick Bar
A kitchen island can make an instant bar when installed in your dining room, sunroom, or living room. Add hooks to the edge for bar towels, mount wine glass holders on the underside of shelves, and install a bottle rack inside the cabinet. Proper placement is all you need to make this piece of kitchen cabinetry into a gathering place for snazzy drinks.
Entry Solutions
If you have room in your entryway, a kitchen cabinet on the floor can solve your storage and organization solutions. Designate a shelf for each member of the family, and tuck away shoes, purses, and backpacks. Use the top of the cabinet as a catch-all for keys and a decorative vase of flowers, or set a cushion on top of a lower cabinet to use it as a bench.
Forget the word kitchen the next time you're looking at these multipurpose cabinets. Add them anywhere you need a flat surface, easy shelving, and a quick way to tuck away storage.