Whether you are looking for easy access to whatever you may need in your kitchen or you just like the freedom that a large kitchen allows you, modern kitchen spaces offer simple and efficient solutions to many of the common kitchen shortfalls. You also have the choice of choosing either a completely hidden space for the kitchen or the one that exposes the equipment and appliances with all its modern touches. Efficient design with plenty of workspace is what makes a professional kitchen pleasant and ready to cater both cooking and hospitality. Read on to know more about these distinctive and modern kitchens that make preparing delicacies a cinch.
Design and layout
Having a commercial kitchen with all professional grade tools and appliances right where you need them helps you add a relaxing style to the kitchen. Designing the space so that it has maximum ease of access is one of the most prominent features of any kitchen and in that, Italian kitchen design particularly appeals to those who want to add a bright and relaxing style to the kitchen. With a modern touch of stainless steel, commercial Italian kitchens are easily customizable and distinctive and feature the cooking supplements prominently suggesting an elegant cooking lifestyle. Whether you want to show off your glassware from hanging racks or display the containers on splendid counter tops, Italian-style kitchens are the right choice for both professional and not-so-professional gourmet chefs.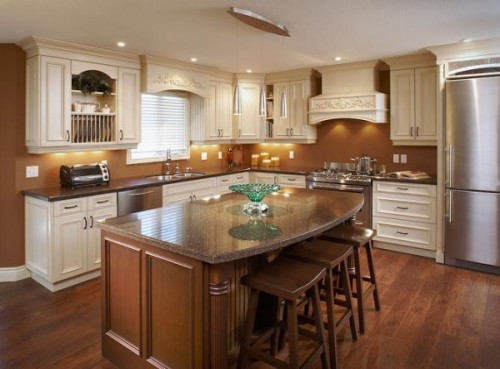 Ease of access
From shiny stainless steel kitchen islands to chairs and stools, bright and modern furniture in a professional kitchen makes it distinctive while strategically placing all the kitchen pieces to create an elegant look. Together with stainless steel cookware, large utensils and cutlery, an Italian style professional kitchen from Prisma Italia offers a visual interest while displaying the material in a relaxed theme.
Fully-functional elements
Another prominent feature that adds beauty to the modern kitchen is the bar counter. A perfect bar counter design with an ideal theme that is both relaxed and luxurious with natural features is what makes the guests stay for long stretches of time. Beautiful and fully functional bar counters inspire most of the chefs or the soon-to-be chefs and suede stainless steel counter finishes help you not to worry about polishing them forever. They also offer a clean yet boyish look to the atmosphere and look remarkably stunning.
Whether you are looking for nude colors to suit the environment of your restaurant or you want cooking ranges that offer maximum flexibility, opting for stainless steel is really fantastic for a working kitchen and ensures more safety and hygiene all the times when compared to those made of stones and earthy woods.