When it comes to pleasing a girl with the decor of her special room, it becomes a little difficult. In fact, decorating a room can be a little expensive. However, there is no need to pour all the wealth in decorating the bedroom with rich and expensive embellishments. Neither does it indicate that the table tops and the walls should be kept bare. The rooms can be made into trendy and modern ways just as the teenagers would like at low cost as well. This article discusses the ideas for teenage room designs that are both cheap and useful.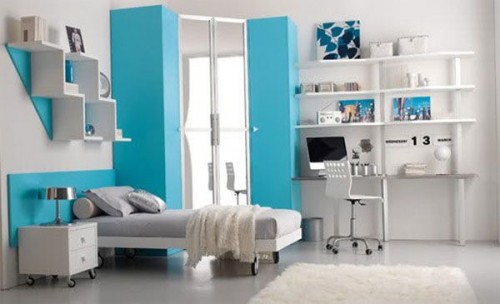 The most important thing before starting to decorate a room is to decide what is desired and what is not. The next step would be to do away with some of the items that do not suit the place. They can be adjusted in some other place.
The rooms can be decorated following very simple and easy methods. There are several items that are most easily found and at low costs that can help change the look of the room. For instance, the sea shells can be used as embellishments. There are glasses and pine cones as well.
One of the most important things in teenage room designs is selecting the dominant color and theme of the room. Once the color is chosen, the selection of theme becomes simple and easy. There is no hard and fast rule as to the selection of colors. In fact, more than one color can be chosen to offer a contrasting and lively look to the room.
Focusing on shapes would be great. For instance, the furniture in the room can be placed in a circular or rectangular shape. Same can be done with the accessories as this accentuates the look of the room.
Cuddly and soft items are most important to mention in the ideas for teenage room designs. Having cuddly items surely brings into the mind the cushions and teddy bears. When the surroundings are lush and cozy, it becomes more comfortable to sleep. The bed can be made to look fluffier with comforter. A number of pillows and cushions can be added to make it appear softer.
The walls can be covered with wallpapers. They can even be filled with drawings and paintings. For such paintings, one does not need to have a flair for painting or creative designs. It would really look modern when paint is splashed into whatever is done.
Hanging mirrors is another idea for teenage room designs. These are sure things when it comes to decorating rooms. Mirrors can be both plain and with designs etched on them. The advantageous side of this idea is that one can fix oneself up easily with the mirrors.