Some of the recent modern wood interior design ideas provide exceptional wood work wonders when teamed up with the modern and clean lines of minimalist design. They showcase the capability of wood in taking the centre stage when contrasted against crisp white details, stone surfaces and shiny metal. The following lines round up the trending ideas in every possible detail.
Opening statement
If one is planning to show-off their home in the best possible way right from the start, then natural wood can play a big role here. It balances rough stone textures and crisp walls well enough in giving the hallway a simple and elegant look.
The accent wall
Eminent designers from the world over are utilizing various sizes and finishes of scrap wood these days and that too in a significant amount. The end-result is an astounding installation that keeps one's sense of sight engaged for quite some time.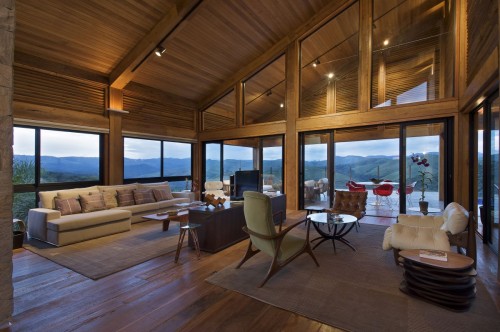 Wooden headboards
Gone are the days of fancy upholstered headboards. It cleverly makes an understated impression without affecting the space of the room. This is the perfect solution for those who don't have plenty of square footage and are trying very hard to develop a comfortable space.
Replacing the ceiling of the 70's
Wooden ceiling is an age-old concept but it is breathing a fresh lease of life for the past few years thanks to some intelligent and visionary designers. To make this work, one needs to ensure that they have enough square footage or ceiling height, so that they do not make the room feel claustrophobic and cramped. By adding shiny floors and modern lighting, one can easily update to this look.
Wooden bath
Wood contrasts beautifully inside an all-white bathroom. Before installing it in a moist place, one just needs to make sure that they are following the exact rules as that of installing wood outdoors. One can also mix their species and grains.
A curious separation
It can be used to contrast a predominant material like metal. It breaks the vertical nature and smooth texture one normally associates with metal. Such use of modern wood interior design is generating rave reviews all over the designing circuit these days.
A warm welcome
If one is planning to use wood for their entry doors, they can keep the look classy and modern by choosing a swivel door. Horizontal grain can also be chosen, combined with cool hardware and flat-faced door.
Using wood outdoors
It is kind of hard to ignore when one starts using wood in unexpected places or ways. At the time of using wood outdoors, it needs to be treated with proper sealants so as to ensure that it continues to perform for an indefinite period.