If you plan to redecorate your living room but you are not quite sure how, you can choose between the most popular interior design styles that can transform your living room in the most comfortable room of the house or you can try unique interior design styles for living rooms that will transform your living room into a work of art.
American Colonial Interior Design Style Living Room
This interior design style is renowned for the woodwork that is extensively used. If you love the idea of having a living room full of fine furniture and classic designs, you can choose between the 18th century colonial style and the early American style.
In the 18th century style the classic furniture is combined with hardwoods floors, formal designs and precious fabrics, such as brocades and velvet. The early American style is a rustic reinterpretation of the 18th century style that, besides the various types of wood furnishings used in designing and decorating the living rooms, it incorporates ethnic elements like braided rugs and imposing brass fixtures.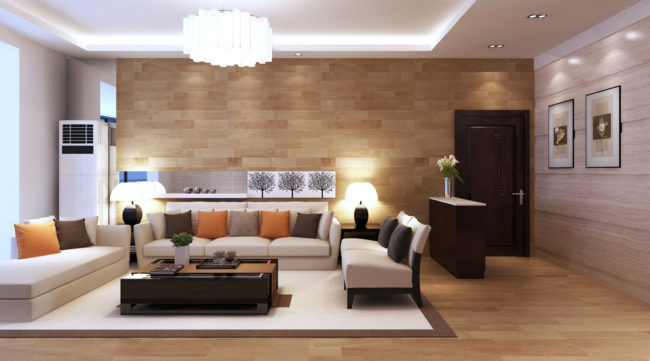 Medieval Interior Design Style Living Room
Home décor can mean more than decorating a house in a stylish way; it can be an outlet for recreating some of the most famous eras in history, such as the medieval period. A spacious living room is the best room for recreating the dramatic décor of the most famous Middle Period European's castles.
When it comes to the materials that are required for creating a medieval atmosphere, think about granite and dark wood. A wooden ceiling and some dark wood ceiling beams will be perfect for this type of interior design. Make sure the colors for the furniture and other decorative elements are rich and intense. Deep red shades, dark green shades and gold hues are the best choices for the dramatic atmosphere you want to create. The focal point of your medieval living room should be the fireplace.
Gothic Interior Design Style Living Room
Another interior design style that requires a spacious living room, gothic interior design is perfect for those who love a mysterious atmosphere combined with decadent luxury. Gothic interiors are usually characterized by dark walls, floors and ceilings, furniture with intricate finishes, imposing decorative objects and impressive lighting fixtures.
The best way to create a gothic appearance in your living room is to use navy, brown or burgundy paint on the walls and darker shades for furniture. Black walls are not a good idea since the place will be too dark and all the décor elements will be less visible. The furniture should have elegant elements in contrasting colors. For lighting you can choose anything from chandeliers to candelabras. The decorative elements can be inspired from the medieval design or they can be classic and elegant. Statues and crosses are great décor objects that can be the focal point of a gothic living room. Also, candles play a huge role in this style but make sure you choose candle holders that are elegant and classy.