The living room tends to be the busiest area in any house and maintaining the living room interiors always seems to be a tedious task. However, interior decoration for living room should never be taken for granted as this is the place where you'll be spending your time with your family members.
It is very important to make the place relaxing and comfortable. There are many steps that people can take to increase the comfort of the area any make it look wonderful. Living room interiors should be beautiful as it is also the first thing that the guests will see when they enter the home. People should also try to build it in such a way that it is easy to clean and easy to rearrange whenever required. Most of the living rooms are designed according to the space available and the lifestyle that people follow.
Living room interiors should be planned properly as it is the main area that helps in creating a good impression on the people who come to your home. It is very important to understand the things that make you feel pleasant and relax. If you like listening to music then you must make sure that TV or the music player is kept in the right place. The furniture should be kept in the right areas and one should make sure that it does not disturb the foot traffic in the living room. People generally place the sofas directly against the wall in the house. But it would be a nice idea to keep the sofa little forward and place a plant or a lamp behind the sofa.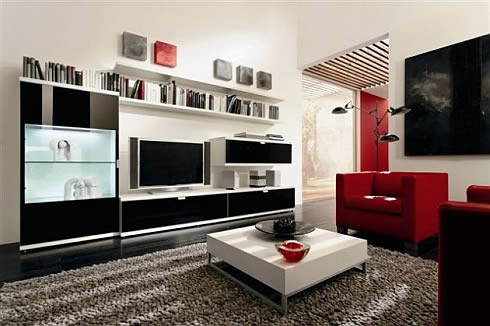 Colours are also important while designing the living room interiors. The colour combination should be good and one should make sure it looks creative enough. Choosing the right colours prove to be a very inexpensive method of increasing the warmth in the room. Colours are a great way to bring serenity, boldness, and creativity in the room. Experimenting with colours is not a bad idea but one should try to have a look at the sample of colour mix before applying them in the house. Hanging a mirror on the wall can help in making the small living rooms look more spacious.
Living rooms should be designed in such a way that everyone who sits there feels comfortable and people are able to have a great time over there. People spend most of their time in the living room and it is very important to design the living room with openness and create a nice ambience. Even small items can help in increasing the beauty of the living room interiors. It is important to place the right things at the right place. The room should also have a proper lighting option and it is good to have proper space for sunlight to enter the room.