Use mirrors strategically
Not only are mirrors utterly marvellous at creating the illusion of a more spacious room, but placing one directly opposite a window will catch the light coming in and reflect it around your space, making it appear brighter. Consider mounting one big mirror, or opt for several smaller ones and create a feature wall.
Pick your light fixtures carefully
Lampshades which sit above the bulb and cast the light straight downwards aren't ideal, as the ceiling and the corners of the room won't benefit from the extra light. Avoid low-hanging fixtures for the same reason, and opt instead for ceiling-mounted spotlights or glass shades.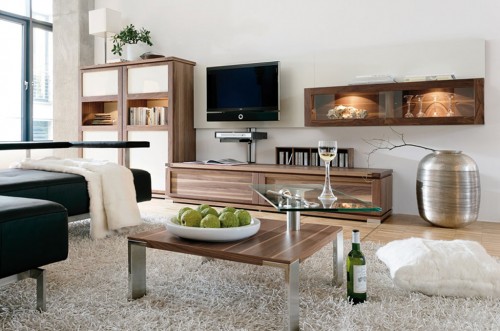 Think about your windows
If you're thinking of renovating then it's worth considering your options Floor-to-ceiling windows or traditional French doors will let in significantly more light than a window above a wall, with the added bonus of better views of your garden. If light is really at a premium, you could opt for frameless glass curtains to maximise the glass area of your window.
Consider your paintwork
It goes without saying that darker walls mean a darker room, as a dark matte colour will suck up the light and won't allow it to reflect successfully across the room. Opt instead for light, bright colours such as pale blue and primrose yellow, which will give the place a fresh, sunny feel. Painting your ceiling a slightly lighter colour than the walls will also help to brighten the room from the top down.
Switch to blinds
The bulk of curtains can shave up to 12 inches off the area of your windows, even when they're drawn back. Blinds take up far less space around your window frames, can be left partially open without compromising your privacy, and are available in a vast range of colours and textures: choose fabric blinds to match your decor, or opt for bamboo blinds for more of an Eastern feel.
What's in your garden?
Is there a big tree in your garden? It might be time for it to come down. This one is a commitment, but it's worth considering if the lack of light is really making you miserable: sometimes it's better to deal with the overall cause of a problem than to continue working around it. Talk to a tree surgeon about your options, but don't forget to consult your local council first.
Keep things tidy
It's a simple point of logic to say that an untidy room is often a dark room; why do you think all those minimalist inspiration pictures on Pinterest look so light and airy? If you're serious about maximising the light in your home it's important to keep a lid on clutter in order to make spaces look bigger and allow light to penetrate successfully. Clear your surfaces, find new homes for awkward possessions and take a look at your storage options; you'll be surprised at the difference it can make.