One of the biggest hurdles faced by people while living in a small home is the creation of functional kitchens to keep things organized in a proper way. Every inch of the kitchen space is valuable which is why things need to be kept in a well-planned manner. With some simple tricks and furniture inside your kitchen you can make it look more functional than it really is.
The vertical space inside the kitchen should be utilized by the addition of cabinetry or shelving that reaches the ceiling. The infrequently used items can be stored above the cabinets as per the space available. Hooks and pegboards can be added on the door or wall to store small gadgets and utensils. A pot rack can be hanged from the ceiling to make easy access to larger pans and pots.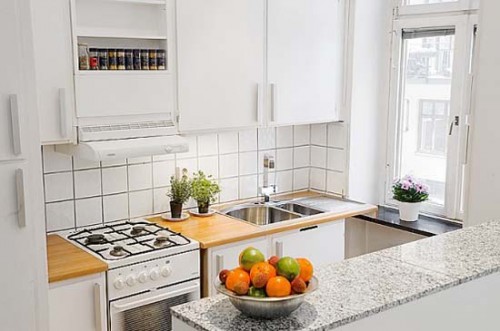 Double basin sink featuring drain boards and sliding cutting can be included within the horizontal workspace of small kitchens. Some people might find it temping to include small sink within that space but, if the sink is too small then it will be pretty inefficient. Those who wish to include an electric stove must consider using glass top version as they are efficient with their increased surface space.
Another way of increasing the work surface is through the addition of portable furniture like utility carts with rollers and even small islands consisting of butcher-block tops.
Lighting within the kitchen is an important factor which requires serious consideration. The small functional kitchens should include sufficient lighting so as to make it more functional and offer a bigger feel. The light needs to be distributed across every surface and should be modifiable through dimmers and multiple switches. If the space is poorly lit then dark corners of the kitchen doesn't get used which is not what is recommended.
It is always advisable to install European size appliances that are much smaller in size making utilization of space extremely easy. Even though, this might mean frequent shopping but the space and energy savings are definitely worth it.
For any small space, double duty items prove extremely useful. Those with small table inside the kitchen can consider building of a banquette along the wall instead of opting for individual chairs or simple bench seat. The banquette's base can be used for storing items that are infrequently used like some appliances or large pans.
If there is wall space within the kitchen, it might serve as the perfect place for storing glassware or spices. Wire or glass shelves can be installed between the studs which offer a lot of additional space without interfering with floor plan.
Keeping in mind the space one has within their kitchen these tips and tricks could make it much easier to store items and carry out the normal functions with ease.