Whether you are looking to create a room to fit a period property or country cottage, or simply want a touch of rustic charm in your modern home, these tips and tricks will help you create the kitchen of your dreams.
The Rustic Colour Pallete – When creating your rustic colour palette, think 'fall'. Neutral tones such as sand and stone are a fantastic foundation, coupled with warm tones such as ochre, terracotta and brown. Cooler colours such as blue and green work well when teamed with wood, but should be used as accent colours rather than to cover large spaces. Check out pallete generators to find the perfect colour scheme before you go paint shopping.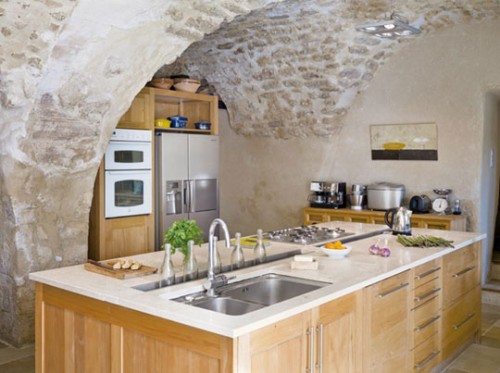 Materials – Rustic spaces should contain as many natural materials as possible; unpainted wood (ideally waxed rather than varnished) and stone are typical, with traditional rustic woods including pine and oak. Stone flooring and surfaces teamed with wooden cabinets are quintessentially rustic and can be simulated on a tighter budget using stone effect tiling.
Rustic Touches For The Large Budget – In large spaces that can carry it, consider adding artificial wooden beams to ceilings; nothing says rustic like exposed beams! A wood burning stove is the perfect addition to a rustic room and does not require a fireplace; modern designs are multi-fuel and can be fitted in any room – a wood burning stove in the corner of your room not only adds instant rustic charm, but also provides a cost efficient heating solution. Have a look at www.woodburningstovesandflues.co.uk for more information. Fitting a ceramic 'farmhouse' sink in place of typical modern iron 'sink and drainer' combinations is great rustic accent for those with a larger budget.
Rustic Touches for a Limited Budget – If you can't afford to fit a new kitchen, consider replacing the doors on your units instead. This is a cost effective way of giving your kitchen a facelift. Opt for wood effect doors in pine or oak finishes. Exposed shelving is a quick and easy rustic 'fix' – display quirky crockery and knickknacks on shelves, stack pans and dispense pasta, rice and cereals into glass jars with hand written labels. Rustic is all about the handmade, so if you have a creative streak, the world is your oyster; an old wooden ladder as a pan hanger, painted tins and ribbon as utensil holders – hop on Pinterest for a plethora of cute rustic DIY projects – authentic rustic touches for every budget.