These 10 budget-friendly kitchen makeover ideas help you to enjoy a great makeover for your kitchen while saving a lot in your pocket. Most homeowners spend a considerable portion of their time in the kitchen daily and if you have a beautiful kitchen you would be more tuned to continue with your daily routines with great enthusiasm. Therefore, you need a few great makeover ideas for the kitchen which would make your pocket happy too.
1. Refacing kitchen cabinet doors
Cabinets are important components of a kitchen and serve as great storage spaces for your kitchen essentials while making the place look tidy and organized. If your cabinets are looking old, you can make them look new by refacing the doors of the cabinet. Here remember to replace the hinges of the cabinets as well.
2. Replacing the hardware
When you replace the hardware of a cabinet such has hinges, pulls and knobs it would seem as if a new cabinet is sitting in its place. Here you can select a style to give it a new look, using minimum investment.
3. Changing the kitchen countertop
The countertop in the kitchen is a busy area where you do various important kitchen works. You need not change the entire counter top, but just change its surface by adding granite over it. This would make the countertop durable and create a change in the kitchen environment.
4. Use accurate lightening in your kitchen
A great way to renovate your kitchen is to use accurate lightning in your kitchen. This would make the kitchen look more spacious and add a new ambience to it.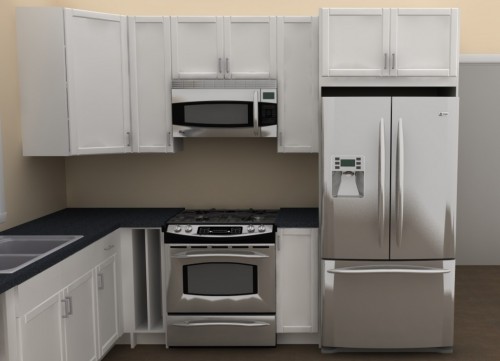 5. Introducing ceiling lighting in your kitchen
Ceiling lighting can be used in an appropriate manner to give your kitchen a great makeover. Most people tend to use halogen pots which might make your kitchen warm. New ceiling lightings with energy consumption features can light up the kitchen and bring out its radiant features.
6. Adding head lighting system
You can use a few over head lighting systems over cabinets, dining room and countertops. This would prevent you from using excess electricity and also give a new dynamic look to the kitchen.
7. Apply a white coat of painting
If you have a real financial crunch, but still want to give your kitchen a great makeover then you can just apply a fresh paint of white coat on the ceiling. The brightness of the white ceiling would make your kitchen look more lively and beautiful.
8. Create your own backsplash in the kitchen
Does your kitchen enjoy a backsplash? If it does not have one, you can now make one using different types of tiles which can be bought with a few dollars. Then you can let your creativity work and within a few hours your old kitchen would be sporting a new character.
9. Change kitchen flooring
In place of old worn out floors you can add new vibrant floors made of artificial tiles and vinyl laminations. This would make your kitchen enjoy the look of old wine in new bottles in no time.
10. Adding simple knick knacks around the kitchen
A small beautiful magnet on the wall or an old painting with a kitchen theme are some of the things that you can add in your kitchen to give it a new flavor. In fact, this would be the simplest yet an amazing makeover idea among the best budget-friendly kitchen makeover ideas.