Hollywood regency bedrooms intended in creating a dramatic backdrop in the midst of all the drama taking place on the actual set. They are a sample from a large number of styles, but without hinting any kind of mishmash. Confidence and sophistication are exuded by the designs, with a swaggering undertone. The appeal comes from the refined air and the impeccable elegance that it brings to the table. The bedrooms, in particular, are born from larger-than-life movie sets designed during the golden era of film-making, bringing dash of glitz and glamour in a large way.
Small-scale furnishings
With an eye for cocktail parties, these regency bedrooms squarely put people in the spotlight. The classical way is to keep the bedroom modest and low slung while arranging them in such a way that they invite long-conversations. One should avoid scattering the furniture all over. With "drama" written all over, one might think of outlandish furnishings. But these bedrooms actually walk in the lines of traditional English antiques, with more stylized and modern air. Also informing the look is the art deco, through its ornamentation, symmetry and streamlined profile.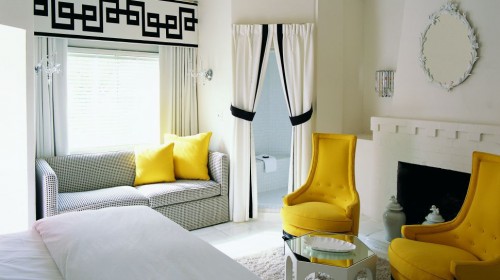 Adopting a strong color
Black and white is the hands-down color scheme when it comes to these Regency bedrooms. It epitomizes a sharp contrast one usually sees in Hollywood Regency interiors. But jolts of juicy, bright color also help in lending the energy which the look requires. For instance, one should be thinking turquoise, tangerine, fuchsia, regal purple etc. Also, one needs to keep a focussed palette so as to avoid the rainbow effect. Color should be layered in such a way that the room celebrates contrast.
Bold Pattern
It helps to enhance the Hollywood Regency setting. Animal prints and trellis, neo-classical motifs and art deco, geometrics and wide stripes are all on target, as is a harlequin flooring of black and white. There is no space for mannerly plaids and timid florals in these bedrooms. The approach is emphatic all the way. Hollywood Regency bedrooms go well wallpapers such as hand-painted murals and showy print. But if someone is afraid that it might overkill the whole room they can try in just papering the ceiling or an accent wall.
Luxe Fabrics
Opulent and thick fabrics are the basic elements of Hollywood Regency bedrooms. Textiles such as chenille, suede and velvet rule here. Choosing the right fabric is just like half-the-battle-won. One needs to use them for the maximum effect. Lavish draping, a broad sweep and generous gathering should be aplenty.
Lacquered finishes
Glossy lacquer helps in elevating the pedestrian furnishings and taking the elegant ones to the top-most level. This section is dominated by colors such as Prussian blue, tomato red and Kelly green, with lacquer pieces complementing the look.
There are people who wish to transform their bedrooms and offer it a newly refined look. With these ideas and some other additions it can surely change the whole look of their bedrooms.