There has been a wide recognition and awareness regarding going green. With the hype being very high, there are a lot of takers for the idea of going green and also adopt it as the global warming is causing a huge concern over a period of years. So when it comes to implementing these eco friendly ideas in homes it starts right from energy conservation and eco friendly interiors. Using products that are not harmful to nature goes a long way in being eco friendly and helps to connect with nature.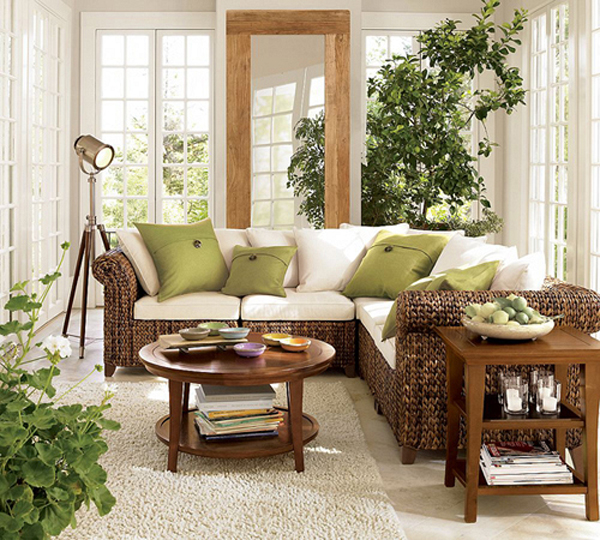 Ideas on eco friendly interiors
When it comes to eco friendly interiors, it aims at low-consuming electrical appliances, long lasting and durable furniture and minimizing the emission of carbon into the atmosphere. This is because too much piling up of unused furniture might trigger off carbon in the air as it might be used for burning purposes. Therefore, the aim must be to minimize the wastage between periods of 10 to 15 years. This way it can be conserved and result in non wastage of any material. Making small changes to your rooms or homes might go a long way in saving our environment.
It can be such as replacing the plastic furniture with wooden or cane furniture. Using jute mats and carpets on the floors might also be an excellent option. Using glass with a metal oxide coating helps to keep the heat of the Sun away and also keeps the interior heat intact. You can fix your doors and windows with this glass. These can windows can be insulated in case of any breakage or leakage in the structure. In addition to this, they will eliminate the need of a fan as well.
New and bright eco friendly interiors
Other options in eco friendly interiors are using eco friendly kitchen appliances that are equipped with high technology ideas are the best choice to have a full fledged energy saving kitchens. These have a quick working capacity that can perform every task such as cleaning the kitchen work area, washing the utensils or cooking the food in a jiffy. These are energy efficient ones that are capable of using only one third of the regular ones. This is also due to the fact that it has many more interesting features that would help them to act and save much more than the regular ones.
Using stone or pebble type flooring or on the walls would let you to safeguard the heat in them in the day time and proceed to the releasing them during the evening. Choose those appliances and machines that are eco friendly and are energy conserving in nature. This way none of the energy would be wasted and also saved most of the time. These are energy efficient ones that are capable of using only one third of the usual power. Also it will go a long way in saving a lot on your energy and power bills.