It is often quite essential to look for ways which could help in leading a green lifestyle. One of the easiest ways for adapting these eco-friendly ideas can be started by making adjustments at home. This is because charity always begins at home, so you should be careful at looking for some eco-friendly home improvement ideas,gradually then taking it to the next level. There are many ways for making your home more environmental friendly, which can lead to a much better ecosystem.
Some of the eco friendly home improvement ideas to follow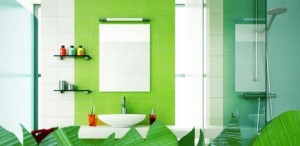 Maintenance of an Herb Garden – If gardening is your hobby, then you can make the most out of it, by having fun and enjoying in fresh air and natural surroundings. The herb gardening doesn't take too much of space, perhaps helping you even if you aren't too keen at gardening or have expertise in doing the same. So if you wish to have greener and fresh surroundings around you, an herb kitchen is the ideal solution, apart from an additional bonus of fresh fragrance and aroma.
Light bulbs and CFLs – It is essential to save money, especially looking at the alarming rise in the prices. This again could start from the home itself, wherein the electricity bills can be cut up to a great extent by using CFLs. This is supposedly done by making use of the Compact Fluorescent Lightening bulbs rather than ordinary bulbs and tube lights that consume a lot of energy. A cut in the energy consumption lead to a much safer and eco-friendly environment.
Use reusable bags –It is our responsibility to make use of reusable bags rather than use plastic bags which cause a lot of damage to the environment. This is a major contribution towards the effort for Eco-friendly improvement ideas and can help in saving the environment. This can also bring down the rate of pollution caused by plastics usage.
Bill payment – One can help Mother Nature by lessening the use of paper work and making use of online facilities for making bill payments and other simple transfers. This helps at contributing efficiently to a greener environment both by saving paper and also saving the fuel that is otherwise used. Paper and water saving is important and thus they should always be secured and uses to the minimal extent.
Eco-friendly home products – It is essential to decrement the use of toxins and hence it is important to make use of eco-friendly home-products which will help in saving money. The cost effective products are beneficial as far as health is concerned. It is quite important to keep yourself away from the highly exposed harmful chemicals which can lead to allergic reactions.
Eco-friendly improvement ideashelp in saving the environment and also save some of the money as well in the process and it is vital that you follow them seriously for making the world a better place to live for the next generations too. It might cause a little bit of difficulty in the beginning, but gradually within a fewer days, you'll surely get habituated to practicing them regularly. This helps in making use of the greener and eco-friendly products, saving time, money and efficiency up to a large extent.