Contemporary luxury house interior design tips will be of great help to those who are planning to give their home a high-end look. Shoe-string budgets always choke the creative freedom but these interior design ideas will make sure that nothing gets compromised in the build-up to a great modern day living den.
The following lines will be rounding-off the essential tips and ideas that need to be followed for contemporary luxury house interior design.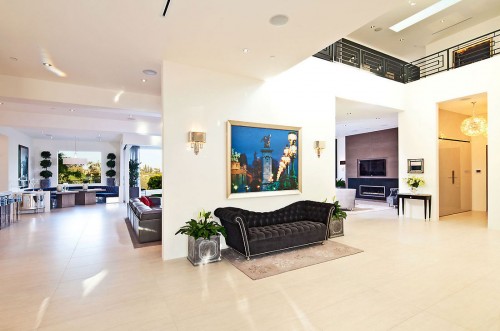 Beefing up the architectural moulding can go a long way in making the rooms feel richer and posh. One can add box trim, taller base moulding, wider crown moulding.
Installing a thin trim piece several inches below the crown moulding can be a good trick. The drywall space between two trim pieces needs to be painted in the same colour and finished off as that of the trim. Bulky trim moulding helps in making it look pricey.
Wood flooring elevates an area's look to several notches. No other flooring material can make it feel as rich as that of a stunning wood floor. It might be a little on the expensive side but is definitely worth the cost. The icing on the cake is that at the time of selling the house, one is sure to be getting a huge return on their investment.
Throwing pillows 18 inches or less usually screams 'Store Bought'. Larger pillows help in making the room feel and look more high-end and expensive.
Overfilling the pillow covers also helps in making the den look exclusive. Stuffing inserts of a 24-inch pillow inside a 22-inch one gives a more luxurious look.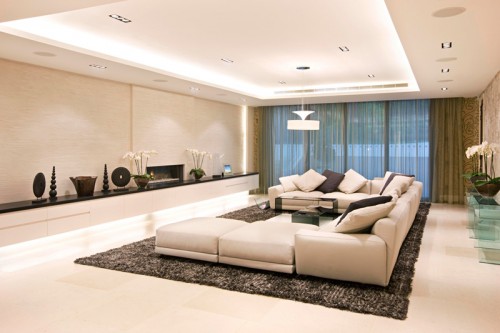 Painting the interior doors black makes the space look classy instantly. Trying this trick will even make cheap doors look something really special. Cheap flat panel doors will be looking richer with a black paint coat. Other black accents can be added as well so as to make sure that the doors tie well with the decor.
Nothing creates more impact inside a room than that of an interesting light fixture. One should be losing the builder-quality brass chandelier and instead should be installing an eye-popping personality piece. Many home improvement stores offer various top-end lighting options that can give an expensive look for a meagre price.
If one is planning to class up their place, then the perfect way to achieve that is to retire their shiny items at the first place. It's tacky to fill the rooms with gilded items. One can use silver instead as it stands out without looking overdone or cheap. Metallic grey, brushed nickel and chrome are classy, sleek and easy on the eyes.
Vinyl flooring is chic, cheap and is easy to clean. It is virtually available in any pattern or color and can imitate more expensive materials like hardwood, marble and tile.