Creating a gallery wall is the perfect way to make the personal statement at home. This is your great opportunity to make the statement about what kind of person you are and what kind of things or paintings you like. Mix the different types of paintings and the photography which are black-and-white and also colored and have a combination of high and low pieces.
Have fun with the layout
Before placing the different collection of pieces, one must play with a few layouts of the pieces until one can identify the best one for the gallery wall at home.
Color of the wall
The wall in which the photographs and paintings will be hanged should be painted smartly. The gallery wall must be painted with those colors which will be contrasted with the art pictures and photography. The color can be of two shades or can be given some prints. But it should look good with the photos and the art pictures hanged.
Pictures chosen
 The pictures and the photographs should be the best collection of the artist or the photographer respectively. They should only give their masterpiece that is the best paintings and the best picture clicked.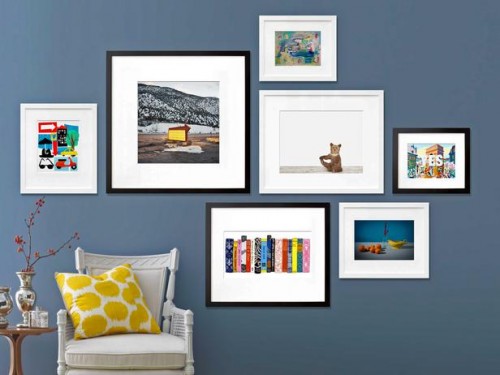 Arrangement of pictures
The picture and the photographs should be arranged in a descending manner, yet in a style so that people can look every picture and photograph on the gallery wall and can get attracted. They can be hung either in an ascending or descending order or it also can be hung by forming a circle or a square or a rectangle, in different shapes.
Light shades
The different light shades on the gallery wall should be fitted according to the paintings and photography to create a different effect other than the colors and the things present in the pictures and photographs. Different shades of color contrasted with the pictures and a photograph gives a different look to the room.
Paintings
There can be a variety of abstract paintings all over the wall. The paintings should have a proper color combination, one can be of full black and white touch, one can be in the sepia color or another can be very much colorful. Thus, make the gallery wall look more attractive.
A wall story
By placing the photographs and the pictures in a different manner one can create a story which can be seen through the paintings hanged on the wall. This will add a brilliant beauty of the room and as well as the wall.
Frame
A proper frame should be given to the photographs and paintings which has a good combination with them. A proper frame always increases the beauty of the picture or the photograph. These are some of the ways to create a gallery wall in the home.