The unique aspect of Japanese interior design is that they believe in keeping the decoration simple and clean while avoiding congestion. A typical Japanese home will seem rather empty and this is one striking difference with the western house interiors. A number of natural materials go into the construction of Japanese homes. The most important feature in their interior designing is that they pay attention to the building rather than to adding items to it. Here are some of the basic traits of their interior designing styles.
Japanese interior designing uses shoji screen for the purpose of decoration. They have numerous latticework patterns with which they work. They offer a personal touch to all their furniture, artwork, and to all seasonal decorations.
The Japanese prefer different design methods for their interiors which is somewhat unconventional. The key idea in Japanese interior decoration is that they try to bring a unique and pleasant look to their home while using less decorative items and keeping away the congestion at the same time.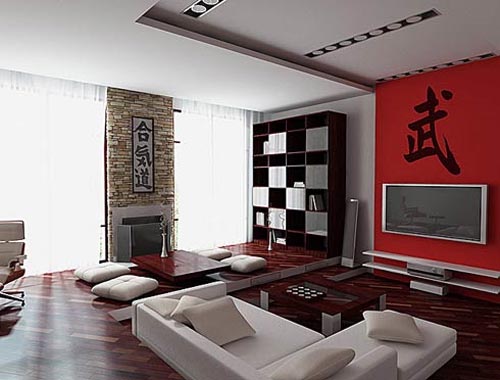 The Japanese have a special decorating piece for their floors. They make use of Tatami mats. These mats are sized 90×120 cm and are available in six inch or eight inch arrangements.
Corresponding to the fireplace mantle in Western interior decorating styles, the Japanese have at their homes the Tokonoma alcove. It is here where one would find the family heirlooms, Japanese art, and seasonal decorative pieces. The Tokonoma alcove can also have items like hanging scrolls or bonsai plants.
As far as furniture is concerned, the Japanese do not have a flair for it. A typical Japanese interior design would either exclude furniture as a whole or would have very few. Their furniture consists of the traditional heating device hibachi, kotatsu, and tansu.
The bed they use in Japanese interior designing is nearer to that used in the Western countries. It is a futon that serves their purpose for a bed. The futon is provided with mattress and covers. Kakebuton is what they call the cover.
The Japanese prefer simplicity and cleanliness of their interiors over using too much furniture that may lead to clutter and congestion. A Japanese household would always look for space rather than decorative pieces. They do decorate, but very sparingly. A good deal of earth tone can be found in the Japanese decoration.  A Japanese home would feature wooden beams that are exposed, folk art, rough wooden floors, vintage fabric, lanterns, and big windows.
Much of their interior designing goes for basic colors that include tan, gray, accents of gold, and brown. These colors can be found in almost all Japanese homes.
The Japanese interior design consists in offering a modern look. However, in spite of the fact that the Japanese decorative style believes in doing it sparingly, it adds black lacquer, gold tint, red shade, and splashes of green to their homes.