The world is going green and so are the minds of people. Decorating the drawing room interiors is something that most of the people would like to do. In fact, this may be said to be a kind of passion in some people.
It is, indeed, a great way to show that you have good decorating skills. In every single room, you would have to make some practical compromises with the aesthetic side of decoration. However, for drawing room interiors, the aesthetic considerations gain importance to a great extent. This might issue a conflict between comfort and visual pleasure.
There can be objects that do not seem attractive and they have to be kept either as an antique piece or a necessity. However, the decoration of drawing room interiors deals in making an arrangement such that all the seemingly indispensable objects that look unattractive can be positioned in such a manner that they look beautiful and orderly. Some such examples are the television set, radiators, and unevenly positioned windows. The television set cannot be dumped and neither can you throw away the radiator. Instead what you can do is place them in a manner so that they add to the decorative designs running through the room.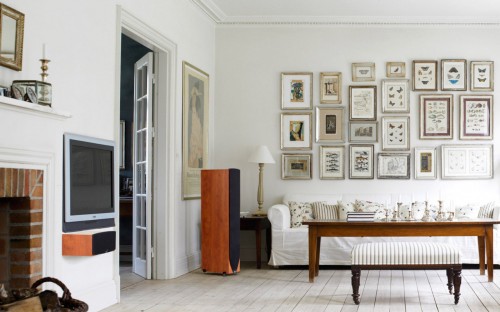 The decorative design in the drawing room interiors is strongly influenced by the dominant styles of decoration as prevalent in the period. Though some try to decorate their drawing room interiors according to the styles of some famous age, the decorations are not untarnished by some dominant patterns of the contemporary age. This merging of two dominant patterns offers a unique touch to the decorative style of any room.
In fact, the monotony that a dominant style seeks to evoke is shattered when contaminated by another pattern. This causes the resulting pattern to be exciting and attractive. For instance, the setting can be Georgian and contaminating pattern modern or the dominant pattern to be modern and the objects as antiques. But, this is something that needs skill. If the decorating pattern of the drawing room interiors is dominated by a single pattern, it can be completely dependent on aesthetic considerations.
However, when there is a mixing and merging of the styles of two periods, the decoration must have a meaning. This is to say that either they should strike contrasts or they should convey a meaning in a composite manner. This perfection when mixing the styles of two different periods can be achieved only by a skilled designer who has good knowledge about both the patterns that are used in decorating the drawing room interiors.