Floating bathtub design ideas are one of the most recent bathroom design trends which have got very popular in a short span of time. The good thing about floating bathtubs is that they could be accommodated in a bathroom which is not very spacious. Instead, they would make the small bathrooms look big. The floating bathtub design ideas create some space in a small bathroom as the underside of the bathtubs is open. On the style part, a classy and sleek look is provided to your entire bathroom. This design has its origins from Europe, but it is spreading all over the world in a rapid manner.
LED lights and mirrors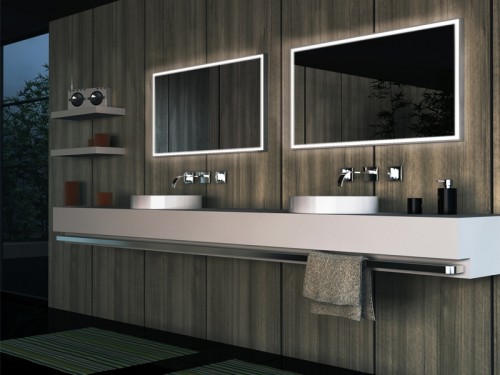 If you are ready to try out something new with your bathroom, you can go for floating bathtubs fitted with LED lights and mirrors around them. This design was first introduced in Spain and later on, people around the world became its fans. The tub would appear to be floating when it is fitted like that in the midst of lights and mirrors and it would be an amazing experience to have a bath in such kind of a bathtub. The mirror would be best fitted on either side wall of the bathtub. Additionally, you can use any color of LED lights to match with the tiles.
Wooden cabinet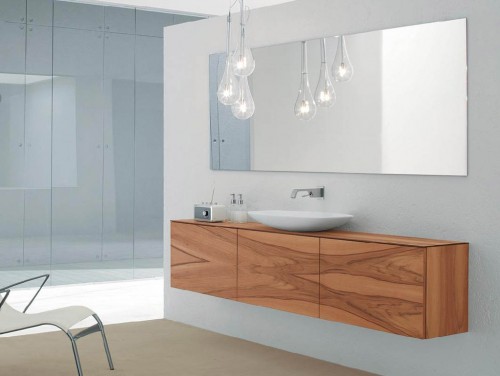 In order to provide a modern look to your bathroom, you can also go for a wooden cabinet. This cabinet is generally coupled with a mirror, which also has a wooden boundary. The floating bathtub is designed to fit inside the wooden cabinet and this becomes the attraction of the entire bathroom. Also, this design idea would make your guests think that you are an artistic person.
Hammock style floating bathtub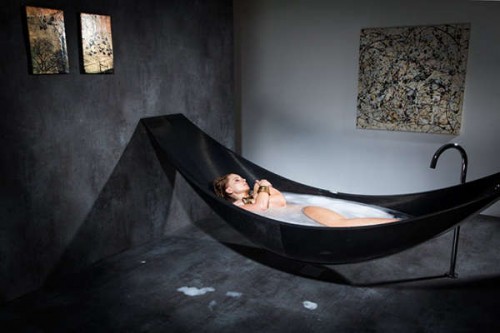 This hammock style bathtub is a recent trend; it is unique because it would hang in your bathroom just like a hammock. If you think that you would fall down from it, then don't worry because it is a tested design and has already been implemented in some of the places. Lightweight and very strong carbon fibers are used in the construction of this bathtub. One advantage of this kind of bathtub is that it would prevent most of the things in your bathroom from getting wet.
You might be in a dilemma when you have a small bathroom and you want to remodel it. But, the recent trends in floating bathtub design ideas would not only provide you an opportunity to make your small bathroom look bigger, but would also let you save some money in the process. Another advantage is that you would be able to use the underside space of these floating bathtubs as a storage solution. You can hire a professional architect if you are confused which kind of design would be best as per your home.