Tile trends in bathrooms showcase the recent ideas that are receiving a wide acceptance from every corners of the interior-designing world. Interior designers, both big and small, from all across the globe are adopting the recent trends in bathroom tiles with arms wide open.
Masculine lines
Metallic detailing lightens up soft black tile and gives depth to it. It complements both traditional and contemporary bathrooms. Small metal tiles are more interesting than huge sheets of copper or stainless steel. The obvious application here is the backsplash. One can use stainless steel for a more contemporary and finished look. These range from brushed to satin. Warm copper or bronze tile combines traditional style and timeless beauty.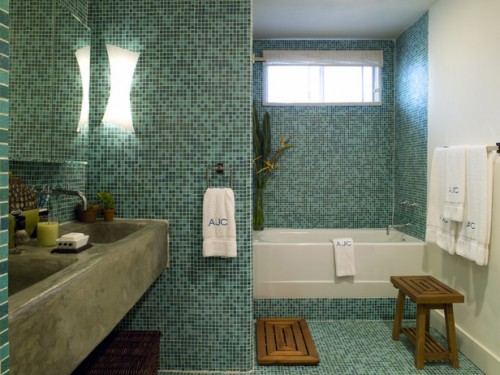 Subdued shine
The glass mosaic tiles turn ethereal, giving a milky and delicate art glass look. It adds luminescence, depth and sparkle which are not found in natural stone or ceramic. Ranging from flat to glossy, it fits almost every design scheme. Vivid glass tile, when used sparingly, can provide excellent visual highlights. It creates a spa-like environment if it covers an entire wall. Also, an added advantage is that most of the glass tiles are coming from recycled glass.
Hardwood
Contractors do not recommend hardwood flooring inside a bathroom, but one can surely opt for hardwood porcelain tile instead. These are easy to maintain than actual wood and being a natural resistance for moisture it is the perfect choice for bath applications.
Contemporary classic
One of the elegant additions to the recent tile trends in bathrooms is the white marbles which have been available in various shapes and designs. Staggered pattern and different thicknesses add interest to the classic white marble.
Return of the hexagonal pattern
With the mix of both classic black and white in a perfect finish would give a bold as well as a sophisticated look.
Circle story
Recently it has been seen that the penny rounds are getting a modern update in various contrasting shades.
Crystal chemistry
Using this style would involve the integration of raw and polished stone appears ultra-chic in grey and blue hues. The looks would certainly make the bathroom look much warmer.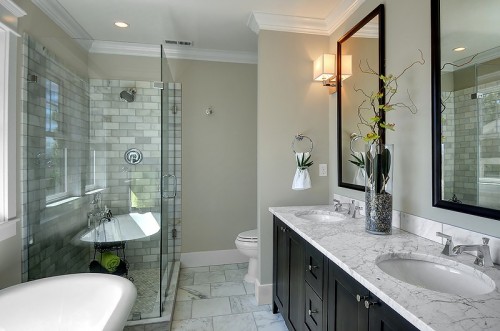 Mix and match
This effect could be created by combining multiple patterned and mosaic tiles which create a fascinating high-end look.
Bold colours
A bathroom is the ideal place to add zest and drama clubbed with bold coloured tiles. Moreover, they are the perfect medium to bring out that spunky vibe.
Natural disposition
This feel can be created by tumbled, rough stone perfectly in-sync with rustic, stripped-down decor.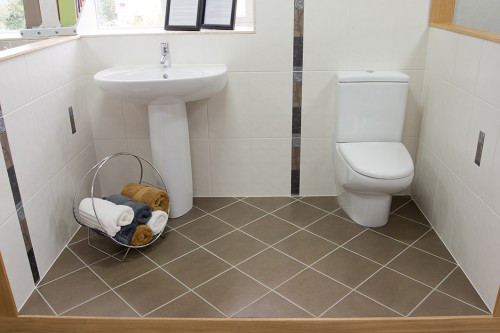 Seeing stars
One of the innovative additions to the recent tile trends in bathrooms is the polished mosaic which can be used in a clever way so as to resemble a Moravian star.
Going with the grain
Muted green shade and delicate graining helps in making glazed tile both organic and modern.