Bathrooms these days have become much more than a mere functional space. This statement gets reflected in the way customers are choosing the tiles. Tile design ideas for bathrooms not only bring out the glamorous side of them but make sure that they perform well when it comes to practicality.
Natural stone look
The natural stone look that comes with ceramic tiles has a broad appeal. But a shift exists here from surface pattern like geometric designs with retro feel to a more creative approach with the addition of authentic realism.
Glass
This tile in any shape and size is a trendsetter in itself with blues and greens ruling the line. These come in an extensive range of finishes and colours, including softly frosted elements as well as contemporary and cool Liquid Glass tiles.
Tile sizes
Creative directors of top tile companies believe that diverse sizes are coming in, from large rectangles to small mosaics. This tile design idea for bathrooms is sure to stay here for quite some time.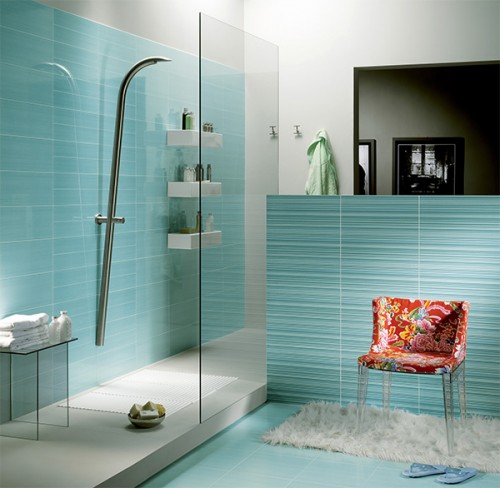 White
This colour still continues to be the king when it comes to bathroom tile colours, but now it is coming in different shades, varying textures, mosaics and reflective prints for the added interest. If one is looking to create a clinical and cool look, then all they need to do is go with the simple white brick.
Black and white
Designers these days are seeing a move towards monochrome B&W statement tiles that are readily available in different styles including mosaics, floral and classical marble. They are also on the same page of using patterns inspired from wallpapers in order to bring out a dramatic look of a feature wall or panels teamed with coordinating basic tiles.
Mosaics
Glass mosaics introduce jewel-like, rich and shimmering effects. These are used in detailed areas like windowsills or interspersed with ceramic tiles, as these provide unlimited opportunities to add individuality and value to a bathroom.
Look-alikes
These days, ceramic tiles emulate stone along with fabrics, wood, metal and wallpaper. The stone look is the undisputed champion among these tile design ideas for bathrooms, but others are catching up as well.
Zoning the areas
Horizontal borders are now a passé. Now-a-days, it's all about zoned areas. Tiles can be used to separate areas for relaxation and reviving purposes. For instance, the shower is a stimulating area ideal for mosaics, whereas the bathroom area is perfect for unwinding.
Enhancing space
When it comes to tile design ideas for bathrooms, larger tiles are definitely popular as are the textured tiles. Medium sized tiles or mosaics in reflective or white finish need to be used inside small bathrooms to create an illusion of space. These exact tiles can be used in floor and walls which will enhance the space-feeling by generating a continuous look.