Whether you have a large or small bathroom, you can make the most of storage space with innovative ideas. A creative storage solution not only helps in keeping all your bathroom essentials well stacked, but also provides visual appeal to the visitors. Check out these smart bathroom shelving ideas.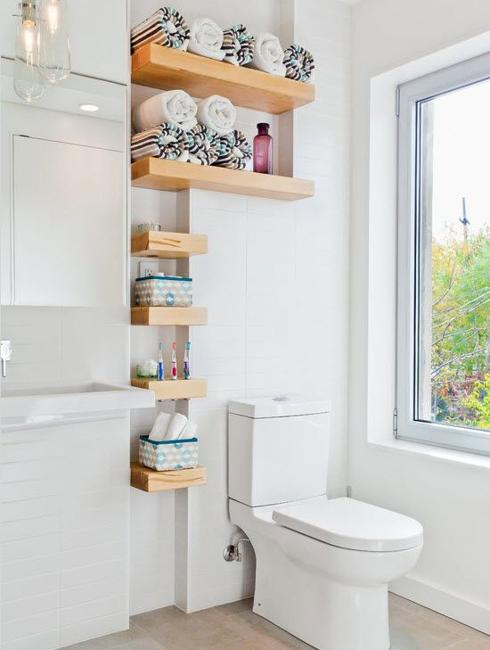 1. Shelves under the stairs
You can make the best use of space in small bathrooms like the one under the stairway, by fitting different sized shelves to match the sloping roof of the bathroom. These step-by-step shelves not only look perfect, but also fix your storage issues.
2. Mismatched storage unit
You can fit in all your family's bathroom accessories in this storage unit which has shelves of various sizes to accommodate different types of toiletries. This shelf takes care of all your bathroom requirements, keeping it clutter-free.
3. Ornamental bathroom shelf
Go for a wooden shelf in your bathroom and place all your favorite collections on display, opposite to your bathtub. The lively, colorful ornaments add a fun element and let you go down the memory lane while relaxing in the bathtub.
4. Recessed bathroom shelves
Having shelves within the walls of your bathroom is another great way of creating storage space. You can stack all your bathroom essentials conveniently, within reach. You can also illuminate your bathroom beautifully, by placing some scented candles in these shelves.
5. Tiled shelves
If you want to further accentuate your bathroom, go for tiled shelves along with the walls. This is a great way of creating an impact on your visitors. Choose tiles in natural, light colors to create a warm and cozy feeling.
6. Trendy bathroom cabinet
For creating a country-style look, a bathroom cabinet with glass doors is the best. You can go for neutral colors to create a calming effect and place all your bathroom essentials in this chic cabinet.
7. Bamboo shelf towers
Go eco-friendly with these elegant bamboo shelf towers. Stack your toiletries in these multi-tiered shelves and you can also use this bamboo tower as a towel hanger. These natural shelf towers are a great way of adding an element of interest to your bathroom.
8. Glass Corner shelf
A glass shelf instantly adds beauty to your bathroom. Place an elegant glass shelf in a corner of your bathroom and display all your favorite accessories and toiletries boldly. This is also a great way of making the best use of corner space in the bathrooms.
9. Double vanity storage
Create double vanity storage by adding drawers and some open space for stacking up all your bathroom essentials. You can place makeup, bath accessories and other small things in the drawers and use the open space for storing towels and napkins within easy reach.
10. Counter-top storage unit
For creating more space, you can choose to fit a storage unit on top of your existing bathroom countertop. The options are plenty and it is also an inexpensive way of increasing the storage space. You can choose to go with a wooden cabinet for closed storage and place it over the vanity or you can place a rack for open storage in the corner of your countertop.
You don't really need to have a large bathroom for more storage space. All you need is a little inspiration and some creativity to add a personal touch to your bathroom and transform it.